Posted on
Wed, Jul 20, 2011 : 1:37 p.m.
Red Wings' Justin Abdelkader flies with Blue Angels, takes shots (he wishes) at Michigan Stadium
By Kyle Meinke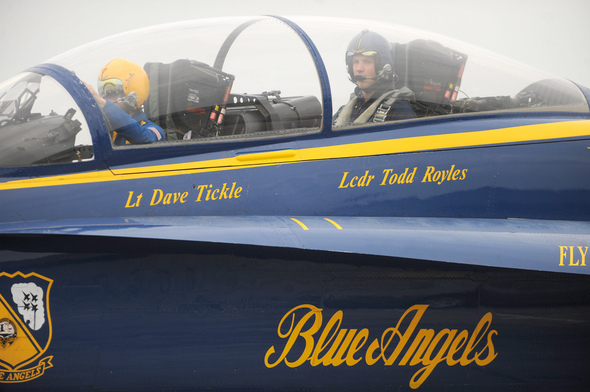 Angela J. Cesere | AnnArbor.com
Michigan football opponents weren't shy about dropping bombs on the Wolverines' defense last year.

Neither was Detroit Red Wings star — and former Michigan State Spartan — Justin Abdelkader as he flew 15,000 feet over Michigan Stadium aboard a Blue Angel fighter jet Wednesday morning.

"Joking around, we flew over Ann Arbor, went over the Big House — if we would have had a couple of bombs on it, maybe we would have dropped a couple on there," quipped Abdelkader, who scored the game-winning goal for Michigan State in the 2007 national championship game.


At least he would have been conscious for that.

Abdelkader said he "blacked out a few times" during the 30-minute jaunt across the Michigan sky and had to focus on his breathing to maintain cognizance.

He took off in Blue Angel No. 7 from Willow Run Airport at 9:30 a.m. Wednesday. Within 3 seconds, Lt. Dave Tickle, who was piloting the F/A-18 Hornet, had set a skyward course of nearly 90 degrees.

In other words: Straight up.

"Definitely the takeoff," Abdelkader said, when asked what was the most difficult part of a journey. "We took off, and just shot straight up right away, so you get introduced to the Gs."

Tickle said he topped out at a g-force of about 7.4 — that is, the normal force of 215 pounds on Abdelkader's 6-foot-1 frame was 1,591 pounds.

"Going through turns, a lot of times I didn't even know what direction we were going because I was so focused on moving my legs and breathing at the right reps," he said. "'Are we going left or right, or up or down?' I just didn't know."

Abdelkader grew up in Muskegon, where he starred for Mona Shore High School. He has attended the Muskegon Air Show since he was 4, and took a few flying lessons when he was 13 or 14. He still would like to one day obtain his pilot's license.

Now a forward with the Red Wings, Abdelkader finally had a chance to fly with the Blue Angels.

"Growing up, and always being fascinated by pilots, and wanting to be a pilot one day, just to go up in a fighter jet — one of the premier fighter jets — is incredible," Abdelkader said.

"I dreamed of this. Just like you dream of playing hockey in the NHL, you dream of going up in a fighter jet. When I was younger, to think I was going to have an opportunity to this, I never would have thought it were possible."

The fighter jet topped out at 550 mph and traversed about 35 miles northwest.

Including past Ann Arbor.

"One of the maneuvers I can show him is the bombing hop," Tickle said. "As we speak right now, we have men and women flying in Iraq, Afghanistan, wherever else. So, I wanted to be able to show him kind of what we do.

"We just happened to be over Ann Arbor at the time, and I know he's a big Michigan State guy. So it worked out great we could pretend we were bombing Ann Arbor for him.

"Obviously I would never bomb Ann Arbor. I have nothing against Michigan."


Kyle Meinke covers Michigan football for AnnArbor.com. He can be reached at 734-623-2588, by email at kylemeinke@annarbor.com and followed on Twitter @kmeinke.