Kara Lynn Joyce now inspiring others on her quest for a third Olympic bid
Posted on Sun, Jul 1, 2012 : 5:59 a.m.
By Dan D'Addona
For AnnArbor.com

OMAHA, Neb. -- Kara Lynn Joyce is taking time to bask in the moment.
As she winds down a stellar swimming career at the U.S. Olympic Swim Trials, Joyce appreciates what she has accomplished even more.
"I am going for my third Olympic team," Joyce said. "It is more than I ever thought I could accomplish in swimming. I am so grateful. I think I appreciate it more and more every time I am here, how much goes into it, how awesome the fans are. It is just a special thing to be a part of. I would love to make it and represent our country again."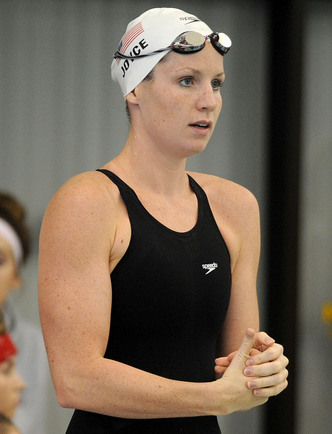 Angela J. Cesere | AnnArbor.com
It didn't start as Joyce had hoped.
The 2003 Pioneer High School graduate, took 18th in the 100-meter freestyle (55.49 seconds) Friday and did not make it to finals.
That leaves 50-meter freestyle as her last chance at qualifying for a third Olympic team. Preliminaries are Sunday morning with the top 16 advancing to Sunday night's semifinals. From there, the top eight make Monday night's final.
"It was not my best work," Joyce said of her 100 freestyle. "But I have more events to go. I can't dwell on it."
What Joyce is dwelling on is how important each moment of her career has been.
Joyce's career span has given her plenty of memorable moments, like winning Olympic silver medals in Athens in 2004 and Beijing in 2008.
She had plenty of special moments before that too, winning state championships and setting the national high school record at Pioneer in the 50-yard freestyle, and strong NCAA performances at Georgia.
But nothing compares to competing for her country on two different continents at the Olympics.
"In Athens, when we won the silver medal in the 400 relay, I was a little disappointed we didn't get gold. In Beijing, when we won silver, I was like, 'silver medal!' In Athens, I didn't realize how special my Olympic medals were until I got home and everyone wanted to see them."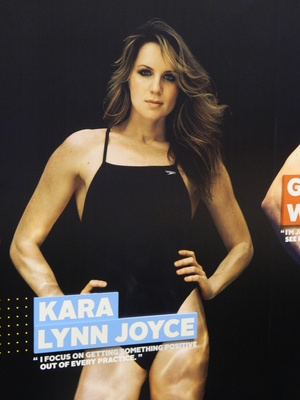 Dan D'Addona | for AnnArbor.com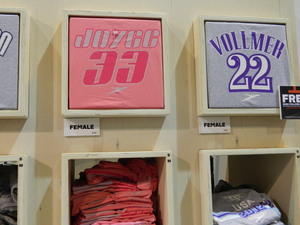 Dan D'Addona | for AnnArbor.com
Now one of the veteran Olympians at the trials, Joyce's face is everywhere. She is on a larger-than-life poster in the CenturyLink Center and Speedo even has T-shirts with her name on the back. They sold out in the first three days of the meet.
"It is pretty cool," she said. "I didn't get here until Monday and a lot of my friends got here earlier. I was getting 10 texts a day from people saying, check this billboard out. Nobody told me it was 7 feet tall. It is cool to have some kind of presence like that. I hope I can inspire kids."
Joyce pays it forward because that is what Olympic swimmers did for her when she first became a contender.
"I have been a swim fan my whole life," Joyce said. "I have always looked up to Olympians. Anytime I had a chance to meet them or see their medal and have them talk to me, I loved it and really soaked it in. To be able to have that influence on kids is very special to me. I hope I can affect future Olympians the way they affected me."
One of her most vivid memories came from her first Olympic trials in 2000.
"This is my fourth trials," she said. "I qualified for the first one when I was 14. I did not make the Olympics, I finished 75th."
But it was what happened after her race that Joyce said inspired her to keep focusing on the Olympics.
"When I was 7, I saw Summer Sanders win the gold medal in Barcelona. I didn't even know what the Olympics were. I said, 'Mom, I want to do that. I want to be in the Olympics.'"
Joyce got her first chance to meet her hero at her first trials.
"I met Summer in 2000," Joyce said. "She was on deck, I had just finished 75th, so I am of course, crying my eyes out. My mom was my coach at the time. She told me to come over there and said, 'Kara, this is Summer Sanders.'
"So then I am crying harder because I am talking to my idol. She put her arm around me and said, 'I was in your position when I was 15. I did not make the Olympic team. I came back four years later stronger than ever, and that is what you are going to do.'
"I was like, 'Umm, OK.' I turned around and got my picture taken with her, got it developed at the one-hour photo, of course. My eyes were so puffy and beat red, but I didn't care. I put it up on my bulletin board - me and Summer Sanders."
Sanders now sees Joyce being a positive influence as one of the Olympic elder statesmen in women's swimming.
"I am honored she thinks I inspired her in any way because right now, I watch her and am inspired by what she is doing," Sanders said. "I have her shirt. It kind of comes full circle, and it is great that she sees that.
"There are so many girls that need a positive influence in their life and it is great that it is her. In those four years between finishing 75th and making the team, It could have gone many different directions."
But it only went up for Joyce.
Since that meeting, Joyce has been on a mission - to get to the Olympics. It has happened for her twice, but in very different ways.
In 2004, Joyce qualified for the 400-meter freestyle relay by finishing in the top four in the 100-meter freestyle at the trials in Long Beach, Calif.
In 2008, Joyce missed the relay by one spot, leaving her heartbroken. But Joyce was added later after a relay member couldn't swim.
"It was definitely a lot harder," she said. "Long Beach trials was a piece of cake. I didn't leave Omaha down and out. I did everything I possibly good. I think I just missed my taper. But, you know what, it make me appreciate being on the Olympic team so much more. I was like a kid who won the lottery. I just wanted to soak up as much of the experience as I could. In Beijing, I realized how much of a live-changing moment. I hope I can have another one of those."
In Beijing, Joyce was part of a large Michigan contingent at the games, including Canton's Allison Schmitt and Rochester's Peter Vanderkaay, a University of Michigan graduate.
"It is pretty special. It gives me goosebumps thinking about everyone from Michigan making the team," Joyce said. "It was such a special time in Michigan that produced so many great athletes.
"I hope I can be a part of this Michigan crew going to London. It would be great company to be in and be very special to me. It is what I have been training for. We'll see."