Posted on
Tue, Jun 26, 2012 : 10:49 p.m.
Kent State baseball coach tells fans he's not headed to that 'school up North'
By Rich Rezler
There'll be no maize and blue uniform for Scott Stricklin. The college baseball world's hottest name is sticking with the navy blue and gold at Kent State.
Stricklin, who led his Mid-American Conference team to the College World Series, told fans in an email message that he declined interest from Michigan to fill its vacant coaching position.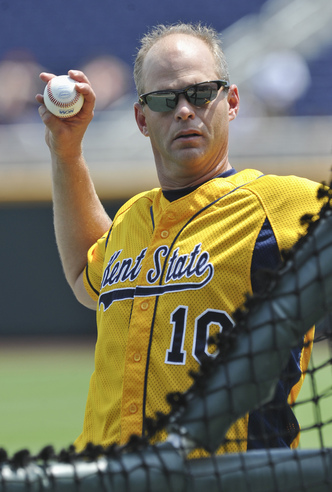 Associated Press
Although, he didn't name names.
As reported in the Akron Beacon Journal, Stricklin wrote: "I know some of you have been speculating that the coaching staff might be moving on after our historic season. A certain school up North came calling and we decided that Kent State and what we have built here was too good to leave."
The Flashes (47-20) went 1-2 at the College World Series and were eliminated from the double elimination tournament by South Carolina on Thursday. They were the first MAC team to appear in Omaha since Eastern Michigan in 1976.
Kent State lost its CWS opener to Arkansas and eliminated No. 1 national seed Florida before the South Carolina loss.
"I think we made a statement that we belong here, and we made a statement that we're a program that should be recognized nationally, not just regionally," Stricklin told The Associated Press after the game. "That's what I'm really proud of."
With Stricklin out of the mix, various reports have mentioned current Maryland coach Erik Bakich as the leading candidate to replace Rich Maloney at Michigan.
College baseball writer Kendall Rogers of Perfect Game USA reported on his Twitter account that Bakich could make his decision as early as Wednesday.
Maloney did not have his Michigan contract extended after going 321-224 in 10 seasons with the Wolverines. He recently agreed to return to Ball State, where he was head coach before taking over the Michigan program.