Posted on
Fri, Oct 5, 2012 : 2:45 p.m.
Kent State's Dri Archer, nation's all-purpose yardage leader, to face EMU on Saturday
By Matt Durr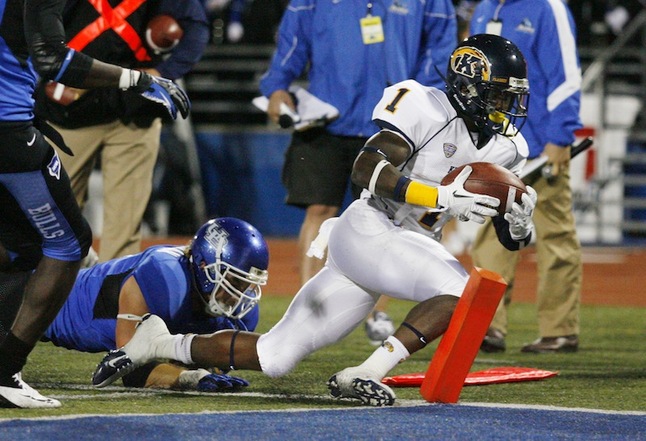 Bill Wippert | Associated Press
Eastern Michigan football coach
Ron English
has seen Kent State's
Dri Archer
on film. He knows how dangerous the junior is when he gets the ball in his hands and yet English knows there isn't much he can do to stop him from getting the ball.
English only hopes his team will minimize Archer's effectiveness.
Good Luck.
Through four games this season, Archer has amassed more than 900 all-purpose yards and eight touchdowns. He currently leads the nation in all-purpose yards per game with 232.8 and yard per kickoff return with 42.7. At just 5-foot-8, Archer's speed is what sets him apart from most players.
Last week against Ball State, Archer returned a kickoff 99 yards for a touchdown. His 40-yard dash time has been clocked at 4.3 seconds, but many suspect he is faster than the official time.
"They have truly a weapon in No. 1 (Archer). A guy who can really run. He really adds a lot to their return game. If you choose to kick it to him, eventually you're going to pay the price," English said. "At some point you're going to have to kick to him. But what a fun player to watch."
"Special teams is a big part of our team," Archer said about his impact in the return game. "On kick returns everything happens so fast so when I catch the ball I always try to go the opposite way to break down the defense."
Aside from his blazing speed, Archer's versatility is another key ingredient to his success. English said Archer reminds him of the way former Heisman Trophy winner Reggie Bush played at the University of Southern California.
Archer is averaging 8.7 yards a carry this season as a running back and 17.4 yards per reception. He has gained more than 20 yards on 15 plays from scrimmage this season and has two of his ten kickoff returns on the year for touchdowns.
The explosive start has come as a surprise as Archer did not play for Kent State last season. After sitting out the entire 2011 season because of academic ineligibility, his impact on this season was an unknown for the Golden Flashes heading into this year.
The delay was worth the wait.
Against Ball State Archer also scored two receiving touchdowns and totaled a career-high 103 yards receiving, to go along with 72 yards rushing on eight carries. For the game Archer compiled 350 all-purpose yards in the game.
Archer and the rest of the Golden Flashes will be in Ypsilanti on Saturday as Kent State takes on Eastern Michigan at Rynearson Stadium at 1 p.m.
Matt Durr covers sports for AnnArbor.com.