Posted on
Fri, Nov 11, 2011 : 7:56 a.m.
Keys for Eastern Michigan: Improving Alex Gillett and fewer penalties
By Rich Rezler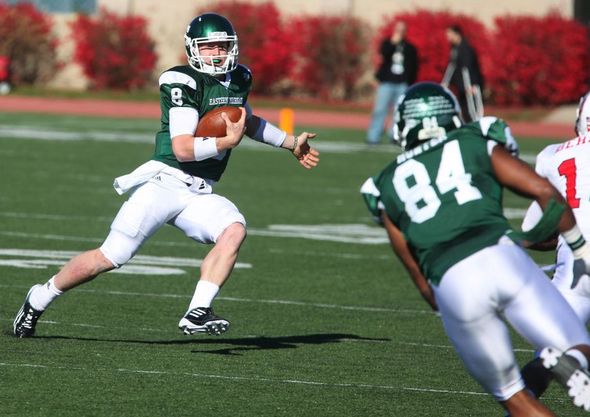 Jeff Sainlar
If you're looking for the silver lining in the Eastern Michigan football team's 33-31 loss to Ball State last weekend, it would be the play of junior quarterback Alex Gillett.
If you're wondering why the Eagles couldn't continue their two-game Mid-American Conference win streak, look no further than the "penalties" line in the boxscore.
"We played hard, and I think the guys wanted to win very badly, but we made too many errors at crucial times - particularly at the end of the game - to win the game," Eastern Michigan coach Ron English said. "I think part of it was we had far too many penalties to beat a team that really does not beat itself."
It's a return to an early-season trend that English hopes does not continue on Saturday, when the Eagles (5-4, 3-2) host Buffalo (2-7, 1-4) at Rynearson Stadium.
EMU had 12 penalties for 108 yards against Ball State, including a crucial 15-yard, unsportsmanlike conduct on linebacker Justin Cudworth during the Cardinals' game-winning drive.
EMU PREVIEW
WHO:
Buffalo (2-7, 1-4 MAC) at Eastern Michigan (5-4, 3-2 MAC)
WHEN: 1:06 p.m. Saturday
WHERE: Rynearson Stadium, Ypsilanti
RADIO: WEMU (89.1 FM)
ODDS: EMU is favored by 3 points.
The Eagles outgained Ball State by 126 yards and won almost every statistical measure in the game except penalties.
Steven Schott
kicked a 44-yard field goal with nine seconds remaining to give Ball State the victory.
The 12 penalties matched a season-high total the Eagles had reached in a narrow win over Alabama State and a loss at Toledo.
In EMU's back-to-back wins over Central Michigan and Western Michigan, the Eagles committed a total of 12 combined penalties.
If the penalties were the Eagles' Achilles heel, Gillett was nearly their hero.
In what offensive coordinator Ken Karcher called his best game in an Eagles uniform, the three-year starter competed 12-of-17 passes for 196 yards and four touchdowns while also leading EMU with 126 rushing yards.
During the game, Gillett recaptured the team lead for rushing yards -- a title he won last season. He now has 565 yards this season, leading rotating tailbacks Javonti Green (557), Dominique White (547) and Dominique Sherrer (393).
"I think (Gillett has) struggled some at times this year and has not played as well as we expected him to play," English said. "But I think he's improved as the season has gone along and I'm happy for him to have played that well in that game.
"If we're running the ball the way we can run the ball, there's some play-action passes to be had. Some guys are going to be open."
Eastern's focus on its ground game may be magnified against Buffalo, which is third in the MAC defending the pass but 11th against the rush.
Gillett's performance caught the attention of Buffalo coach Jeff Quinn.
"We need to contain him. He's a very productive football player," Quinn said. "When you go ahead and total up over 500 yards of total offense, as Eastern Michigan did this past Saturday … that tells me (Gillett) operates their offense very effectively."
Rich Rezler is a sports producer for AnnArbor.com. Contact him at richrezler@annarbor.com or 734-623-2553.