Posted on
Thu, Feb 17, 2011 : 5:55 a.m.
Laid-back Michigan senior gymnast Kylee Botterman finds success remaining focused on the present
By Jeff Arnold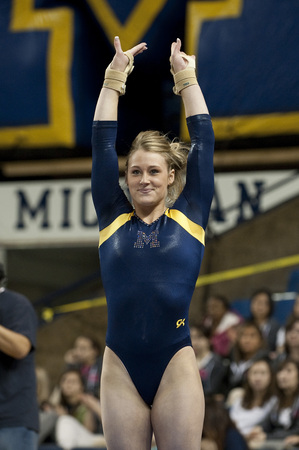 Photo courtesy of the University of Michigan
Kylee Botterman knows when things are going well.
She will be in the middle of a routine and will stick the landing and almost instinctively, the senior standout on the Michigan women's gymnastics team will calculate the numbers in her head. Routinely, her self-analysis isn't far off the mark announced by the judges.
This year, hitting the mark hasn't been a problem. After becoming the first NCAA female performer this season to score a perfect 10.0 in a meet Sunday when she registered the second-highest all-around score in the nation, Botterman, a five-time All-American, earned the Big Ten Gymnast of the Week for the fifth time in six weeks.
"It was one meet," Botterman said of her breakout performance that came against No. 2-ranked Stanford and No. 9-ranked Nebraska. "Yes, I will remember it forever and even though (the perfect 10.0) was the first one in the nation this year, it doesn't make me any better than anyone else.
"It's an accomplishment. But it's already in my past."
Botterman's perfect vault was the second of her Michigan career. Before she reached perfection last year as a junior, a Michigan gymnast hadn't accomplished the feat since 2004.
Botterman is just two weekly awards short of the Michigan school record, held by Lindsey Bruck and Elise Ray, who both earned nine conference performers of the week honors during their careers.
The Wolverines are ranked No. 8 in the country, but haven't gotten off to as fast of a start as they would have hoped. Sunday, they suffered their first home loss in two years, finishing second behind Stanford only a few weeks after losing to No. 17 Iowa on the road.
Michigan travels to No. 3 Utah on Friday, giving Botterman a new challenge less than a week after she won the vault, floor exercise (9.90) and the all-around (39.625) against Stanford and Nebraska.
"I'm just trying to live in the moment," said Botterman, who ranks in the top seven nationally in all four of her events and in the all-around. "I feel like I've always been a pretty laid-back person, but it's a different experience this year. I'm just relaxed and whatever happens, happens."
While she expects a lot out of herself, her free-flowing personality extends into competition. Rather than clicking over a different side of her personality when she steps in front of the judges, her passion for her sport comes out a different way.
It's just Kylee being Kylee. Unlike former standout Beth Wymer - a three-time national champion at Michigan - who Michigan coach Bev Plocki described as a caged animal before competitions, Botterman's no-stress approach makes her unique.
"For her, it's all about enjoying the competition and going out there and having fun," Plocki said. "That works for her, and she's probably the most relaxed person we have on our team."
Botterman refuses to watch fellow competitors, knowing if she starts over-thinking what she needs to do to help her team succeed, the stress will take a toll on her performance.
Beginning with Friday's meet at Utah, the Wolverines' next four opponents are all ranked in the Top six, leaving a Michigan team with nine freshman to run through a bit of a gauntlet leading up to the Big Ten championships on March 19 in Minneapolis.
The demanding stretch also plays into the hand of Botterman, who Plocki refers to as her "big-meet baby." As much as she gets up for tough competitions, Botterman's no worries philosophy again comes into play.
"It's not like I get out there and tell myself, 'OK - just relax' or, 'OK - get nervous, I'm competing now,'" she said. "It's more like I know I've been doing this my whole life and it's more like, 'You've got this, you know what you're doing, just go.'"
In addition to finishing strong in her final season with the Wolverines, Botterman is also trying to plan her wedding to former Michigan hockey player Chad Kolarik over the holidays.
She has also dealt with a bout with mononucleosis this season, which hasn't appeared to slow her down.
"I feel like I've had a good career and I'm proud of everything - I have no regrets," she said. "But I don't think I will be answer the question (about success) completely until the end of the season and I see how our team finishes and how I finish."
Jeff Arnold covers Michigan sports for AnnArbor.com and can be reached at (734) 623-2554 or by e-mail at jeffarnold@annarbor.com. Follow him on Twitter @jeffreyparnold.