Posted on
Sat, Aug 20, 2011 : 5:19 p.m.
Latarrius Thomas back for 6th season and more notes from the Eastern Michigan football team's media day
By Rich Rezler
Latarrius Thomas is grateful for the opportunity, but life would have been much simpler if it wasn't necessary.
The 23-year-old Eastern Michigan defensive back is entering his sixth season of college football and hoping to avoid the third season-ending injury of his career.
"I never thought I'd be here, but I'm here. So I'm going to make the best of it," Thomas said Saturday at the Eagles' media day. "It's another chance. Another chance to play this game. I'm going to take it for what it's worth and play until I can't play anymore."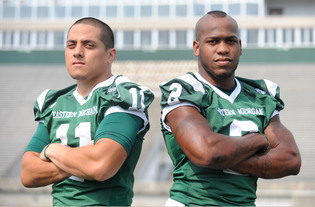 Angela J. Cesere | AnnArbor.com
Thomas and linebacker
Nate Paopao
each received medical hardship seasons after being injured during last year's 28-21 loss at Miami (Ohio), the second game of the Eagles' season.
Paopao suffered a high ankle sprain that kept him sidelined for the remainder of the year. Thomas' neck injury was the latest setback in a college career that had started so promisingly five years earlier -- and 350 miles away.
A top 100 recruit in the state of Florida coming out of Smyrna Beach High School, Thomas started nine games as a true freshman at Louisville in 2006. A knee injury ended his sophomore season after two games and he'd make two more starts as a junior for defensive coordinator Ron English, before following English to Eastern Michigan when he was named the Eagles' head coach.
After sitting out a season because of NCAA transfer rules, Thomas earned a starting cornerback spot for the Eagles in 2010. That was short-lived. So, he's back for one more chance.
"It's the nature of the beast, it's football. Nobody plans it, but when it does you just have to take it in stride," Thomas said. "I love the game. When you can actually play and not worry about getting hurt, it's enjoyable.
"It's been a roller coaster, but right now I'm at the top of it."

Getting a jump
When Donald Scott was making his college decision, he was looking for a place that would allow him to play football and continue his track and field career.
After one season on the Eastern Michigan campus, the sophomore wide receiver from Apopka, Fla., has made an impact in both sports.
One of six freshmen to letter for the Eagles' football team in 2010, he caught 12 passes for 199 yards and two touchdowns. On the track, Scott was second in the Mid-American Conference and an NCAA regional qualifier in the triple jump. This summer, he won the USA Track & Field National Junior Championship in the same event.
Rather than conflicting, Scott says being a two-sport athlete helped him in track. After a season of football conditioning, he set a personal-best distance in his very first triple jump in an Eagles uniform.

Still battling at RB
At the Mid-American Conference media day in late July, English said he was looking forward to see which running backs emerged during fall camp.
Two weeks in, the coach says it's still a five-back competition for playing time.
"Right now, I wouldn't say there's going to be one guy," English said on Saturday. "If we had to play tomorrow, they would all get turns running the ball."
English said oft-injured senior Dominique Sherrer has been the most consistent back in camp, sophomore Javonti Greene showed flashes before suffering a hamstring pull and Ryan Brumfield has been the standout freshman.
Greene started three games as a freshman and became the first Eastern Michigan running back to score two touchdowns of more than 50 yards in one game. He scored from 55 and 53 yards out against Virginia.

Time to start hitting
The Eagles will scrimmage on Sunday, the first time they've done so this fall.
"We're really going to work on scenarios and situations, see how guys function on the field on their own," English said.