Posted on
Sun, Feb 6, 2011 : 5:55 a.m.
Laurie Byrd becomes first Eastern Michigan women's basketball player to have her jersey retired
By Bison Collins Messink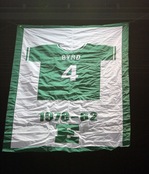 Jonathan Knight | for AnnArbor.com
Laurie Byrd's No. 4 jersey now hangs in the rafters of Eastern Michigan's Convocation Center, alongside the jerseys of George Gervin, John Long and Kennedy McIntosh.
"I'm blessed and very honored, especially to be the first woman, to be among greatness," Byrd said prior to a ceremony during Saturday's EMU basketball doubleheader. "For your alma mater to appreciate the things you've done throughout the years as a student-athlete, it's overwhelming."
Byrd, who played at Eastern Michigan from 1977-82, was a prolific scorer whose 1,899 career points are the most in program history. She is the only Eastern Michigan player to lead her team in points and assists in every year that she played.
Eastern Michigan didn't compete in the NCAA in women's basketball until 1977, a year before Byrd came to Ypsilanti, and she made an immediate impact helping to build the young program.
"My father used to teach me that without her I never would have coached," said Kathy Hart, who coached the then-Hurons from 1976 until 1987.
Byrd has had a lengthy career in basketball since her days in Ypsilanti. She played professionally in five different countries and claims she's played in all 50 U.S. states.
RELATED CONTENT
After her playing days were over, she began a career in coaching. She was an assistant at Detroit Mercy for three seasons, beginning in 1999, then spent three seasons as an assistant to Bill Laimbeer with the Detroit Shock of the WNBA.
She has since been a part of WNBA coaching staffs with the Houston Comets and the New York Liberty. Just this week she accepted a job as an assistant with the Washington Mystics.
In her playing days, Byrd was best known for her jump shot.
"She had a great mid-range jumper, 3-point and in," said Hart. "Though of course at that time we didn't have the 3-point line, so her numbers actually would have been much higher."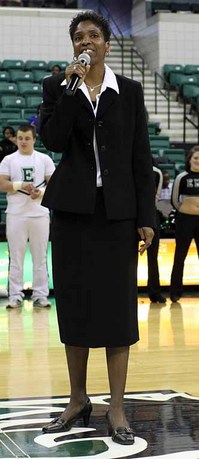 Jonathan Knight | for AnnArbor.com
Byrd could use the extra points on her total now, because a current Eastern Michigan player, Tavelyn James, is threatening to break her career record before the current season is over.
After scoring nine points on Saturday, James is just 119 points shy of Byrd's total—and James is only a junior.
"Yesterday I was talking to her and I said 'I'm so proud of you,'" Byrd said of James. "Records are meant to be broken, and you should set your goals high and strive for things like that.
"I joked with her yesterday, but I'm proud of her."
James, for her part, has been thrilled at the chance to spend time with Byrd while she is in town this weekend.
"It's inspirational," James said. "It just feels good to be in her honor. Everybody gives her respect around here.
"The first woman to have her jersey retired—that's big time."
Having Byrd back at Eastern Michigan was also a reminder of how far women's basketball has come in the last 35 years.
"At that time, we would have two or three star players on a team, and in the conference or in the state there might have been 10," Hart said of her coaching days. "Now every team has 10 players that are great stars, so the volume of athletic ability has grown tremendously."
Byrd said that having the WNBA in place as a stable professional league in the U.S. has done a lot to advance the sport, which is now drawing ever-increasing interest and participation.
"I think with the media and increased news coverage, more girls now are starting to play," Byrd said. "I think the (WNBA) is going to be there for the long haul because there's a lot of talent."
The advances of today's game don't take away from what Byrd did at Eastern Michigan, said hart.
"It's night and day," Hart said of the difference between the game today and in her coaching days. "But Laurie still holds her own on every single one of these records because she was a great athlete, and the game is the game."