Posted on
Wed, Oct 19, 2011 : 7:44 a.m.
Lions add Ronnie Brown to backfield and more links
By AnnArbor.com Staff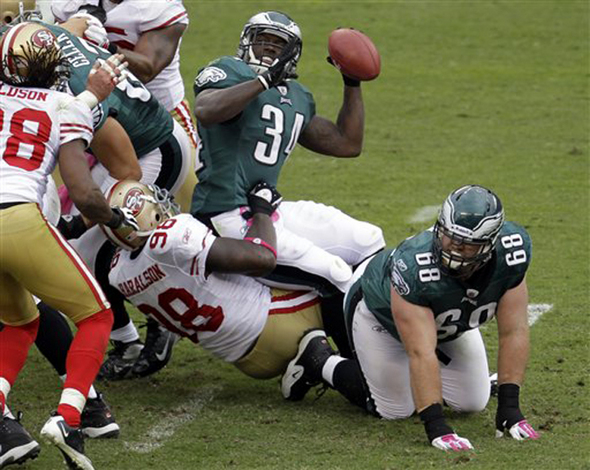 Associated Press
Which
Ronnie Brown
did the Detroit Lions get?
Is he the running back who gained 4,815 yards and scored 38 touchdowns in six seasons with the Miami Dolphins? Or is he the back who rushed 13 times for 38 yards in six games with the Philadelphia Eagles?
Yahoo Sports writes that the Lions' trade of running back Jerome Harrison and a draft pick for Brown "could be another in a long line of shrewd, somewhat under-the-radar moves by (Martin) Mayhew."
Sheil Kapadia of the Philadelphia Inquirer likes the trade, but from Philly's end. He says Brown fell out of favor after a botched fumble/pass on a goal-line play earlier this season. He never touched the ball after that play.
Justin Rogers at MLive.com notes that the Lions struggled to run the ball before the deal for Brown, and one player isn't likely to change that.
As for Brown, he says he's healthy and ready to help the Lions, according to the Detroit Free Press.
"I felt just as good coming into this season as I did coming into my second year," Brown said of the year he rushed for 1,008 yards with Miami. "From a football standpoint I feel like I have a lot left. I haven't had a lot of carries, so there's not a lot of wear and tear. And I think with the injury thing ... all those things are non-factors now."
RONNIE BROWN'S BAD PASS/GOAL-LINE FUMBLE
TIGERS