Posted on
Sun, Jun 19, 2011 : 5:54 a.m.
Lincoln graduate Victor Roache finishes season as NCAA home run leader
By Bob Gross
Mark McGwire. Lance Berkman. Victor Roache.
What puts Roache, a 2009 Lincoln High School graduate, in the same category as two of Major League Baseball's all-time home run leaders? All three have been the NCAA Division I single-season home run champ.
Technically, Roache doesn't have that title just yet. But it's just a matter of time.
The power-hitting outfielder finished his sophomore season at Georgia Southern with 30 home runs. That's six more than his nearest competitor and 12 ahead of any player whose team is still alive in the College Word Series.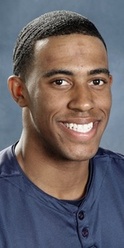 What makes Roache's power more impressive is it comes a season after the NCAA changed manufacturing specifications to decrease the power of aluminum bats.
Home run numbers and batting averages dropped around the country.
"The ball still goes if you make good contact. I feel like you noticed the difference more in batting practice," Roache said. "Guys used to do some pretty crazy stuff and that doesn't happen as much. But when you get something at 85 to 90 miles per hour, you can still send it out."
"In the day and age of home runs disappearing, they didn't disappear for Mr. Roache," South Carolina coach Ray Tanner told The Associated Press prior to the Gamecocks' 2-1 win over Georgia Southern in a double-elimination NCAA Regional.
Roache had his team's lone RBI in that loss and another in a 5-2 loss to North Carolina State that ended the Golden Eagles' season.
"How many would he have had with the other bats?" Tanner asked. "It's a great story for college baseball."
Roache, who AnnArbor.com caught up with in April after he was named Collegiate Baseball's player of the week, hit just eight home runs as a freshman. He said he was as surprised as anyone with his power output this season
"I knew I was going to improve this year," Roach said. "But it's hard to imagine you're going to hit that many homers"
And to be mentioned in the same breath as McGwire and Berkman?
"Its definitely an honor," Roach said "I'm flattered. It still really hasn't hit me yet."
McGwire, who played college ball at USC, is No. 10 on the all-time MLB home run list with 583. Berkman, who played at Rice, is currently at No. 84 with 344 and counting.
Hitting home runs isn't the only thing Roache did prolifically this season. He also knocked in 84 runs (second in the nation), had a .778 slugging percentage (fourth) and a .326 batting average.
Those numbers, combined, earned him the title of Southern Conference Player of the Year and first-team all-American with Louisville Slugger, the National Collegiate Baseball Writers Association and Baseball America. Perfect Game named Roache a second-team all-American.
The individual accolades are of little value to Roache, who likes to steer baseball discussions to his team's accomplishments.
"It was disappointing to finish where we did in the regular season (fifth place), but winning the SoCon tournament was huge and it allowed me to enjoy the recognition a little bit"" he said.
It was during the Southern Conference tournament that Roache hit his 30th home run of the season, which he said was also his longest.
"I barreled it up pretty good and it just went," he said.
The other home run Roache recalls fondly is his 28th, a shot that broke the Georgia Southern and Southern Conference single-season record.
"I was joking with my teammates when I was in the on-deck (circle) saying 'I've got a chance to make history here.' and I did," Roache recalls.
The timing of Roache's ascension is not ideal in terms of a pro career. Roache was drafted out of high school in the 25th round by the Detroit Tigers, but as a sophomore was not eligible for this year's draft. He will become eligible for the draft again at the conclusion of his junior season.
"Having been drafted before, I know how unpredictable it can be," Roache said. "I don't worry about that. I'm just focused on what I'm doing right now."
Roache has already embarked on the next portion of his baseball journey, playing in the Cape Cod league for the Cotuit Kettleers with other collegiate stand-outs. The Kettleers are coached by Baltimore Orioles second baseman Brian Robert's father, Mike.
Roache's mentality for the summer is simple.
"It's a great league and I'm not going out there trying to hit 30 (home runs)," Roache said. "Summer ball is a more relaxed and I'm just out here trying to improve and have fun. So far, I'm having a blast."
And still blasting baseballs.
On Wednesday, Roache hit his first Cape League home run, a three-run shot to give the Kettleers a 4-2 victory over the Bourne Braves.
Bob Gross covers sports for AnnArbor.com. He can be reached at bobmgross@gmail.com.