Posted on
Wed, Jun 23, 2010 : 2:03 p.m.
M Den owner Dave Hirth pleased with new contract with Michigan athletic department
By Andrew Reid
Ann Arbor-based M Den is back as the official retailer of University of Michigan athletics gear as of July 1, and owner Dave Hirth says Michigan athletic director Dave Brandon played a large role in the two-plus months negotiations.
"He's a dynamic person," Hirth said of Brandon. "His fingerprint is on every turn of the road. He's very hands on at every level. He was absolutely involved with our negotiations, and that wasn't the case before. The feeling we get is that he's in deep with every aspect of the athletic department."
The M Den, which was the primary retailer for 10 years, lost the contract in June 2009 to Dallas-based eSports to supply website sales and game-day apparel at Michigan Stadium and Crisler Arena. Hirth and Brandon declined to discuss specifics of the new deal, but the eSports deal guaranteed Michigan $1.5 million in 2009 and was supposed to rise to $2.25 million in the second year.
Brandon said in a phone interview that the athletic department hasn't released the terms of the contract, but he did confirm that it's initially a long-term deal with opportunities for extension.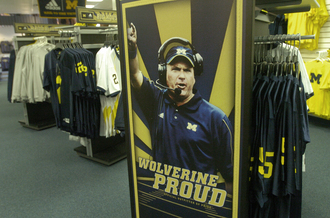 File photo
"The M Den is a Michigan-based company, and we're a Michigan public institution," Brandon said. "They're based out of Ann Arbor, and so are we. We've shared the same brand for decades. They understand our market, our institution, and our brand and history. Those factors led me to believe that this partnership was the best way to move forward."
Neither Brandon nor Hirth got into the specifics of why the University decided to cut ties with eSports. But Brandon said, "several weeks ago, we encountered some difficulties with our previous partner. And it became apparent that the best course of action would be to choose be a new partner."
The M Den will operate nine locations inside and out of Michigan Stadium during the 2010 football season, starting with the season opener against UConn on Sept. 4. That's quite a heavy load compared to last year, when M-Den had one large tent full of merchandise on Main Street and counted on its new, large location on State Street near the heart of the campus to drive sales.
"We wanted to be a team on this," he said. "This contract needed to be a win-win for both sides. And we feel comfortable with where this contract ended up, from our perspective and theirs."
Brandon agreed.
"That's the way it should be with any partnership," he said. "We needed to come up with a way to achieve their business objectives, as well as ours. And I think we've come to an agreement."
Hirth said it usually takes eight months to prepare for the boom of the football season. Brandon was confident that M Den would be ready for the fall, because the have "been there, done that" and know the facilities, fan base and the pressure of game day.
"When something of this magnitude gets on the radar in March or April, the timeframe is incredibly short," Hirth said. "It's been a foot race.
"It's a matter of loading up on the merchandise. It's a major operation at this point, but we have a lot of help from manufactures, who have been great to us throughout the years."
Andy Reid covers sports for AnnArbor.com. He can be reached at andy.a.reid@gmail.com.