Posted on
Wed, Nov 18, 2009 : 3:19 p.m.
Mary Sue Coleman standing behind Rich Rodriguez, coach's agent says
By Dave Birkett
Michigan president Mary Sue Coleman met with Rich Rodriguez on Monday to voice her support for the football coach, Rodriguez's agent Mike Brown said Wednesday.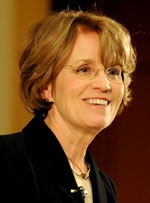 Coleman and Rodriguez met about the release of a university audit that revealed the football team did not keep logs detailing how much time players spent on Countable Athletically Related Activities last season. During the meeting, Brown said Coleman reiterated that she stands behind Rodriguez.
"They came together in regards to the (release of) those CARA forms and Mary Sue said we're behind you 100 percent," Brown said.
Rodriguez is 8-15 through his second season as Michigan coach and 3-12 in the Big Ten. After a 4-0 start, Michigan (5-6, 1-6) has lost six straight Big Ten games and is on the verge of back-to-back losing seasons for the first time since 1962-63.
If the Wolverines don't beat ninth-ranked Ohio State on Saturday, Rodriguez will become the first coach in Michigan history to lose his first two games to the Buckeyes.
Brown said Rodriguez and his staff "are committed to getting Michigan on track as soon as possible" and that Rodriguez is not interested in leaving for any other job this offseason.
He'll be at Michigan "2010 and beyond," Brown said. "They're working hard to improve the program on a daily basis."
Coleman has declined recent interview requests by AnnArbor.com, but told The Wall Street Journal last month she intends to be patient with Rodriguez.
"I don't think it's fair to coaches to bring them in and say, 'We're going to give you three years,'" Coleman told the Journal. "When (former Michigan basketball coach) Tommy Amaker came in, we stuck with him for six years. It just wasn't going to work; it wasn't the right fit. But it wasn't a rushed decision."
Rodriguez said at his press conference Monday this has been the most emotionally taxing two years of his career.
"We can see the light at the end of the tunnel," he said. "Sometimes it's hard when you're losing to see that. But we can see it."
Dave Birkett covers University of Michigan football for AnnArbor.com. He can be reached by phone at 734-623-2552 or by e-mail at davidbirkett@annarbor.com. Follow him on Twitter @davebirkett.