Mats Ljungman beats Garrett Halpert to earn 4th career Ann Arbor singles championship
Posted on Sun, Jul 17, 2011 : 9:18 p.m.
A four-time champion was crowned in the Ann Arbor City Tennis Tournament, but not the heavy favorite entering action Sunday.
Mats Ljungman, 53, from Ann Arbor, won his fourth career city title by capturing the Men's Open crown at the University of Michigan Varsity Tennis Center. Ljungman defeated Ann Arbor Pioneer's No. 1 singles player Garrett Halpert, 6-0,6-1.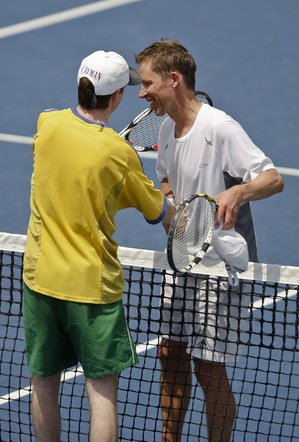 Joe Sharp | For AnnArbor.com
"My strategy was to strike first. Garrett is very tough on the baseline," Ljungman said. "I didn't have much left in my tank; I knew I couldn't play long points."
Ljungman earlier defeated three-time defending champion Sven Holcombe in a match that lasted more than three hours. The pair played in temperatures that reached the mid-90s.
"My legs were gone," Ljungman said.
Even though Holcombe is 24 years the junior to Ljungman, the heat was taxing on both men.
"We were both feeling it," Holcombe said.
Holcombe said he didn't feel any pressure to repeat as champion. He didn't make excuses either; instead he complimented Ljungman's game.
"He is a very well rounded player, he stopped me from coming to the net," Holcombe said.
For Ljungman this was the third different decade he won a title in. He was champion in 1995 and 96, and again in 2004. Ljungman joked he would go for it again down the road.
"I'm coming back when I'm 60," he said.
Ljungman's victory was a bit of sweet revenge over Holcombe. The two faced off in the 2008 Open final, however an ankle injury forced Ljungman to forfeit.
"We look forward to playing each other," Ljungman said. A key point in the matchup came in the final game as Ljungman was leading 5-4 in games, but was down love-15 to Holcombe. Ljungman returned a volley that clipped the top of the net and fell in. Ljungman would go on to finish Holcombe later in the game.
Halpert, 17, reached the final by knocking of last year's runner-up Juan Lopez in three sets while playing in his first tournament outside of the Junior division.
On the women's side, new champions were crowned in all three divisions. Amy Holland topped Yungi Hong, 7-5, 2-6, 6-1 in the 3.0 bracket. Paulina Glouick took care of Diane Fingar in straight sets, 6-2, 6-3 to become the 3.5 champion. Ritsuko Nakano battled Jenny Emery-Peck to a 6-2, 1-6, 7-5 victory in the 4.0 championship.
In other action, Wei Zhou defeated Rod Smothers 7-6(4), 2-0 after Smothers retired to win the Men's 4.5 division. The Men's 4.0 saw Patrick Fay beat Rich Chicone, 6-3, 6-3.
The 3.5 Men's bracket featured Andrew Koeppe coming from behind to overtake John Paul Gierach, 3-6, 7-5, 6-4, to win his first championship. Koeppe used speed to wear down Gierach. Two first-time finals appearances were made by Dan Gajar and Ciro Soto in the Men's 3.0 division. Gajar won, beating Soto, 6-0, 6-1. And in the Senior bracket, Joe Taylor topped John Cornack, 5-7, 6-2, 7-5.