Posted on
Sun, Jun 5, 2011 : 4:11 p.m.
Mbarak Hussein wins USA Track master's championship at Dexter-Ann Arbor Run and other notes from the day
By Pete Cunningham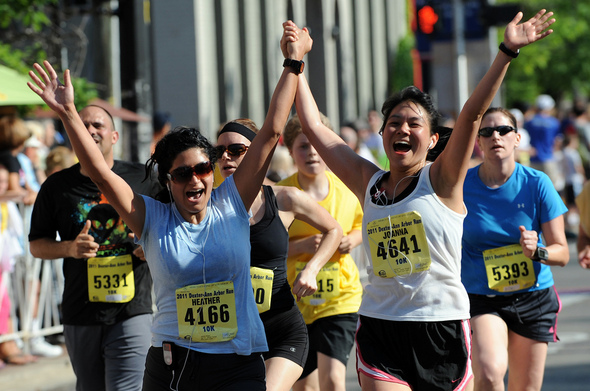 Melanie Maxwell | AnnArbor.com
Mbarak Hussein held even with Mark Andrews for most of the USA Masters 10-kilometers Championships at of the Dexter-Ann Arbor Run on Saturday. But heading into the final hill on Main Street, Hussein separated himself and charged up the final incline to take first place.
Originally from Kenya, Hussein, 47, trains out of Albuquerque, N.M., and credited training in the elevation and mountainous terrain of the Land of Enchantment with his final charge.
"I had a little advantage over the hills," said Hussein, who finished in 31 minutes, 30 seconds. "I think that's where I made a break from Mark."
Dexter-Ann Arbor Run coverage
"I thought I had a chance, but over the last mile or so he found another gear," said Andrews, 40, from Rochester, N.Y.
The win makes Hussein the USA Track and Field master's division national champion and earns him points in the USATF athlete of the year standings.
Sonja Friend-Uhl, 40, from Brentwood, Tenn., won the women's USA Masters 10K Championship (36:03) despite a recent bout with allergy-induced asthma that causes her to have a higher resting heart rate and a constant cough.
"It didn't hit me until about the third mile," said Friend-Uhl, who is more versed in short races, having competed in the 2000 Olympic Trials in the 1,500. "It's a challenging course."
Of course not all of the 7,985 registered runners were current or former world-class runners.
Sam Gooding, 24, of Ann Arbor furiously sprinted toward the finish of the 10K nearly 20 minutes after Friend-Uhl and Hussein. Gooding has been trying to get in shape for the past six months as he prepares to ship off to Army Officer Candidate School later this month.
"Go hard at the end always, I'm not really a runner," Gooding said. "I think this is the most I've ever run."
Women's 5K winner Erin Webster, 25, wasn't exactly satisfied with her time. The former University of Michigan runner (2003-07) cringed when she saw her time (18:17) posted, but was pumped about her prize: a $100 gift certificate at Running Fit.
"I'm going to buy some ridiculously overpriced shoes," said Webster, who has been coaching rather than training of late. "It's a lot different holding the stop watch than doing it yourself."
Ann Arbor resident Pam Meadows, 52, walked for the second year in a row with "Team God Speed" for the Ypsilanti Seventh Day Adventist church.
"We're walking for Christ and for health," Meadows said.
Whether competing for national championships, or just to get in shape, everyone who finished walked the same path after the race: straight to the food tent.
Event volunteer Trice Berlinski had her 25 assistants constantly restocking the 23 picnic tables full of Gatorade, fruit, bagels, pizza, cookies and more.
The surplus food was donated to Food Gatherers, though with a line stretching nearly a block at its busiest it looked like the rate of consumption would take care of any extra.
MORE CHAMPIONS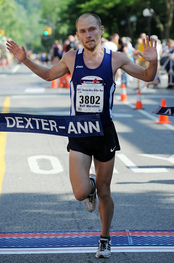 Melanie Maxwell | AnnArbor.com
A former all-American at William and Mary College, men's half-marathon winner Colin Leak, 24,(1:07.18) moved to Ann Arbor from Philadelphia when his college coach, Alex Gibby, accepted the men's cross country position at Michigan.
He's currently training for the 2012 London Olympic Trials and working at Running Fit.
He's been battling health issues lately, making Sunday's win big for him.
"Training has been pretty sub-par lately," Leak said. "Today was kind of a get out there and see where fitness levels are day."
Jackson Citizen Patriot crime reporter Danielle Salisbury, 29, of Hillsdale -- a former Central Michigan runner -- won the women's half marathon (1:20.21).
Former Michigan runner Philip Stead, 29, of Ann Arbor won the men's 5K in a time of 16:26, but said he was nowhere close to the shape he was in when competed in the 800 meters for the Wolverines.
"I would have liked to have run a little faster than I did today, but realistically this is where I'm at," said Stead
Brad Baumann, 47, of Zeeland -- who suffers from adrenal myeloneuropathy -- won the hand cycle half marathon in a time of 45:31, beating his Grand Rapids Wheelchair Sports Association teammate Tyler Anderson, 20.
"I was surprised he caught me," said Anderson, who has spina bifida. "He's been training hard, though."
FOLLOWING THE SIGNS
Ann Arbor physician Melissa Sundermann, 41, had her name written on her stomach in marker while running the half marathon.
It's a motivational technique she first employed in while running this year's Boston Marathon.
"It's so people will cheer for me," Sundermann said.
People standing along the course read her stomach and just start screaming 'Come on, Melissa,' which she said is rather helpful.
Third-year Michigan medical school student Gopal Pai, 26, had some clever help on his side, as well. His friends held up a sign that read "Run like your name tells you ... GO-PAL!"
Fellow med student Alice Zheng, 25, held up the sign along with classmate Margeaux Reizian, 23. Reizian -- whose first name is pronounced "Mar-go" -- did not take her own advice.
POST-RACE PLANS
The two best shirts spotted at the run gave hints about participants post-race plans.
Gray running shirts with yellow lettering that said "Waffle House" on the front and "I run so I can eat" on the back were spotted at the food tent. Blue running shirts with "Follow me to the beer tent" were also seen post race.
No beer tent was found, but mentions of beverages at Conor O'Neills Irish pub were overheard.
ALUMNI CONNECTION
Stead and Webster, winners of the 5K, were both runners at Michigan, Stead from 1999-2002 and Webster from 2003-07. The runners also both graduated from Dearborn Divine Child High School, where Stead was Class B state champion in the 800 as a senior.
Leak, the men's half marathon winner, and Friend-Uhl, the women's master's 10K champion, both ran at the College of William and Mary. Leak was an all-American in cross country in 2009 and Friend-Uhl is a 1993 graduate and former school record holder in the 800, 1,000 and mile runs.
-- Bob Gross contributed to this report.
Pete Cunningham covers sports in AnnArbor.com. He can be reached at petercunningham@annarbor.com or by phone at 734-623-2561. Follow him on Twitter @petcunningham.