Posted on
Fri, Oct 21, 2011 : 6:50 p.m.
Michael Phelps dives into world of creating a swimming video game
By AnnArbor.com Staff
Fourteen-time Olympic gold medalist Michael Phelps, who spent years training in Ann Arbor, now is trying something new: Creating a video game.
>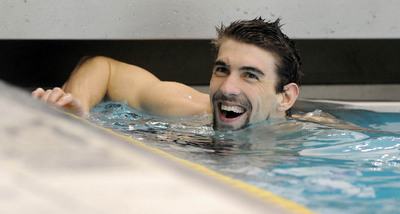 Melanie Maxwell | AnnArbor.com
According to a report on ClickonDetroit.com, Phelps created the swim-themed game for the Xbox-360.
The report says: "'Michael Phelps: Push the Limit' is played without any controllers, allowing players to move their bodies to replicate swimming styles like backstroke, butterfly and breaststroke and virtually swim in competitions around the world."
Phelps trained at the Canham Natatorium on the University of Michigan campus in Ann Arbor from 2004-2008 when his coach, Bob Bowman, led Club Wolverine and U-M's team.
See photos from Phelps' practice in Ann Arbor in spring 2011.