Posted on
Wed, Dec 9, 2009 : 4 p.m.
Michigan volleyball team All-American Lexi Zimmerman will make her biggest assists off the court
By Michael Rothstein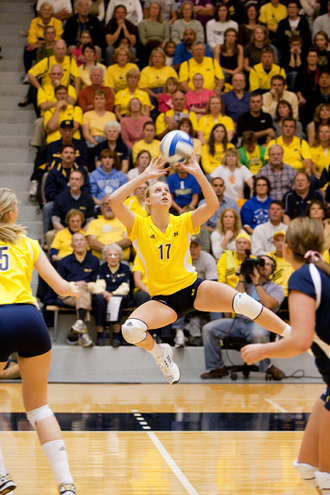 Lexi Zimmerman
makes tons of passes on the volleyball court. It's her job as
Michigan's volleyball
setter, and she's one of the best in the country.
Where she'll deliver her biggest assist, though, may come far from any athletic arena.
Zimmerman, a junior at Michigan, an All-American as a sophomore and fourth all-time at Michigan with 4,528 career assists, is merely trying to save the planet.
She doesn't plan on doing it through politics.
"I just know I don't like policy," Zimmerman said. "I think it takes a long time to do anything, and you can't make dramatic change and a culture-driving change. General environment is getting so much more press, and media and people are actually driving change and pushing forward.
"That's what I'm really interested in becoming a part of, whether it's like the new urbanism movement on a large scale of urban planning or whether it's the green housing, prefabricated. … I'm not really sure on what scale I want to do it, but I know I want to be a part of people causing change."
She leaps into any environmental conversation. She's worked through her prerequisites and next semester will start an introductory class in environmental urban planning - a course she's already bought the pre-class recommended reading for. Never mind she's still in the middle of her season and her team is playing in the Sweet 16 at Stanford on Friday at 10 p.m. She looked up the books on Amazon, dropped $200 and is starting to read.
Her passion started in a class on environment her senior year of high school in Illinois. From there, she was hooked. She contemplated jumping into her major when she arrived at Michigan, but the pre-requisites required combined with volleyball seemed like a heavy load. So as she searched to make sure she wanted to commit to the environment, she kept coming back to one thing.
She wanted to drive change, and within the subset of Michigan's volleyball program, she's the guru of saving Earth.
"I've become the environmental go-to, which I think is kind of awesome. They might be like, 'Hey, I saw this article on solar panels, what do you think?'" Zimmerman said, her eyes getting bigger and her voice rising in excitement. "I'm like, 'Yeah, let's talk about it.' It's just cool to have something."
Having something is what Michigan volleyball coach Mark Rosen expects out of his players. Pro volleyball rarely allows players to earn enough money to make a living, let alone be set for life.
So he practically begs players to make sure they leave Michigan with more than a degree and a desire to play volleyball. He wants them to be passionate in something else, something 95 percent of his players do.
"They know what they are going to do and where they want to be," Rosen said. "So for Lexi to find that out, something that she's passionate about, it's pretty cool. You can hear her talk about it and you just know she's jacked about this. It's something she believes in."
Zimmerman was part of a Live Green competition at Michigan last year which designed "a completely off-grid, sustainable, prototype house that was really small, like 20-feet by 9-feet."
This year, she is participating in a toy competition with economics and business majors and has labeled herself "the environmental consultant," concerned more about cardboard packaging than the bottom line.
She even tried joining Michigan's entrepreneurial club but something she couldn't commit to much time because of what brought her to Michigan in the first place: volleyball.
"I explained the situation, like here's the amount of time I have, you can have this amount of time," Zimmerman said. "Or, I can be involved as a consultant basis."
If there's one area where Zimmerman, who describes herself as a "mainstream hippie," is still struggling, it's her car. She drives a Jeep Wrangler, not exactly the most gas-efficient, hybrid vehicle out there.
She loves her off-roading and she's in the process of writing to Jeep, asking them to look into going more environmentally friendly instead of the luxury route.
So there Zimmerman goes, trying to change the world again, one issue at a time.
Michael Rothstein covers University of Michigan sports for AnnArbor.com. He can be reached at (734) 623-2558, by e-mail at michaelrothstein@annarbor.com or follow along on Twitter @mikerothstein.