Posted on
Thu, Feb 17, 2011 : 12:55 a.m.
Michigan athletes put variety of talents on display for charity in annual Mock Rock competition
By Jeff Arnold
Lon Horwedel | AnnArbor.com
Brady Hoke
walked into Hill Auditorium on Wednesday night, hoping by the time he left, his
Michigan football team
would provide him with his first victory in Ann Arbor.
Turns out, the Michigan Marching Band - along with and a panel of six judges that included Hoke - proved to be to be the only thing standing between the football team and a win in the 12th annual Mock Rock charity competition.
The band registered a string of six perfect 10.0 scores following a flawlessly choreographed routine, "Ken and Barbie: Trouble in Paradise" that drew the night's largest ovation. The first-place performance highlighted an annual variety show that includes student-athletes representing nearly all of Michigan's varsity sports.
Although Hoke's team placed second with its entertaining "Hidden Talents" that included the original guitar stylings of punter Will Hagerup, receiver Joe Reynolds and the rapping abilities of reserve quarterback Jack Kennedy. The performance also included appearances by quarterbacks Denard Robinson and Devin Gardner and running back Fitz Toussaint.
"We came to win," Hoke said after his team's performance. "It will be just like in the fall - we're going to be out to win every time. They did a helluva job."
The performance also drew high praise from an television analyst well-accustomed with judging football talent..
"Now that's the way a Michigan football team should look," said ESPN NFL Insider and Michigan alum Adam Schefter.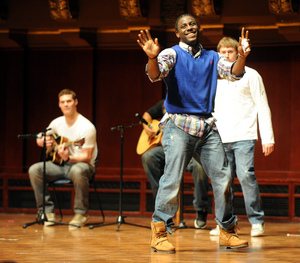 Lon Horwedel | AnnArbor.com
Schefter joined joined Hoke, former Michigan punter Zoltan Mesko, former Michigan gymnast Elise Ray, Letterwinners M Club President Dan Sygar and Jan Brandon, wife of athletic director Dave Brandon as the judges.
The two top finishes pulled away from the pack of other performances that ranged from the ridiculously creative Pokemon (men's rowing) to the wildly entertaining "Somewhere Over the Rainbow" (men's swimming); an act that ended in a speedo-inspired tribute to Michael Jackson.
The men's track and field and country drew rave reviews for their "Avatar" portrayal, including from Hoke, who admitted he hadn't even seen the movie. Hoke was impressed, nonetheless, thinking that the camouflaged characters looked more like they belonged in "Braveheart."
Some performances were more pointed than others. The women's golf team produced a semi-scandalous tribute to Tiger Woods' extra-curricular activities, which drew a top score from Brandon, who said that "any man who cheats deserves to be hit with a 4-iron."
The hockey team took shots at the Ohio State football NCAA violations, making Terrelle Pryor's Big Ten Championship ring one of the items bid on during their rendition of "The Price Is Right" that included academically-challenged quarterbacking contestant Tate Forcier.
The hockey skit didn't stop there with the verbal jabs, taking aim at the football team's struggles with its kicking game and defense.
Afterward, goalie Shawn Hunwick made light of the friendly shots, Tweeting: "Hockey had a great showing at Mock Rock, and don't be mad its all in fun football. We don't have any (defense) either."
Beforehand, those participating in the event expected a tightly contested competition.
"I'm rooting for everybody," said former Michigan linebacker Dhani Jones, who emceed Wednesday night's Mock Rock event. "I'm not pulling for anyone in particular - I just want people to go out and have fun.
"But I expect them all to be great. Shoot - this is Michigan."
The annual variety show, which nearly sold out Hill Auditorium, was more about Michigan athletes giving back. Each year, the Mock Rock event benefits local charities, raising more than $75,000 last year.
This year, proceeds went to three local charities - including the Child and Family Life program at C.S. Mott Children's Hospital, the Michigan Autism Partnership and Student-Athletes Leading Social Change. As of late Wednesday, event organizers did not yet have an estimate of how close they came to reaching their $100,000 goal.
Each of the charities were selected by participating student-athletes.
Hoke was happy to participate even though as a judge, he vowed to remain impartial. He said he wouldn't be as tough on his players Wednesday as he would once spring drills begin next month.
"I think they're expecting 10s from their coach tonight," Hoke said. "I told them the same thing, 'Nothing's given - it's earned.' So they have to go earn it."
For Michigan's athletes - as well as the evening's host - Wednesday night was all about giving back. For Jones, who just completed his 11th NFL season, and who hosted his own show on The Travel Network, being part of the night's festivities played into his mission to provide assistance to those who need it most.
"It's about outreach and service and being a catalyst so that more money can be raised and so that more people can be helped," Jones said.
Yet, that didn't keep Jones from being nervous about hosting the event, which he Tweeted throughout the night. He admitted to feeling some jitters even though he played in front of more than 100,000 fans each home game during his Michigan career.
"It's different - down the road (at Michigan Stadium), there are 22 other people on the field and a whole host of other individuals on the sidelines," he said. "You never know who is looking at who, but when you're alone on stage, there's 4,000 looking at directly at you."
Jeff Arnold covers Michigan sports for AnnArbor.com and can be reached at (734) 623-2554 or by e-mail at jeffarnold@annarbor.com. Follow him on Twitter @jeffreyparnold.