Posted on
Mon, Aug 22, 2011 : 6:12 p.m.
Lacrosse, revenue, social media and more discussed by Michigan athletic director Dave Brandon
By Kyle Meinke
NOVI — At a time when many schools are slashing sports because of diminished funding and revenue, the University of Michigan is investing millions into starting a lacrosse program.
The Wolverines are the first BCS school to add a mens's lacrosse team in 30 years.
It's an unconvential move, but one that is paying off.
Michigan athletic director Dave Brandon said Monday it took the school only six months to collect more than $5 million in donations for the Wolverines' new men's and women's programs, which begin play this year and next year, respectively.
Much of that will be spent on erecting an on-campus lacrosse facility.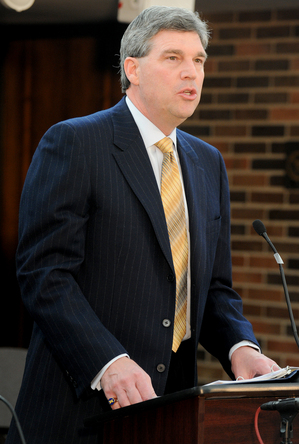 "Those plans are already under way, and we're already in the process of fundraising to make that come to life," said Brandon, who was speaking at a luncheon hosted by the Marketing and Sales Executives of Detroit.
The men's and women's programs will add 85 student-athletes and 25 scholarships to the Michigan athletic department, Brandon said.
Why make that investment, particularly during a recession that has gouged many other athletic programs?
"Lacrosse is the fastest growing sport in our country, it's growing in every way we can measure it, and it's growing in every region of the country," Brandon said. "The growth in the number of spectators at the events and the growth in the number of these events that are being broadcast on TV, is significant.
"That sport will afford us the ability to travel to places the maize and blue have not typically gone. ... It will strengthen Michigan's brand.
"It's a great example of how we plan to invest in our future to grow and expand. It is our goal to grow in every way."
Michigan's expansion is backed by a double-digit growth in athletic revenues, which Brandon attributed to the addition of 81 suites at Michigan Stadium. He expects that increase to continue.
"I wish I had his budget — I wish I had half his budget," quipped Michigan State athletic director Mark Hollis, who also spoke at the function.
Hollis said the Spartans have no immediate plans for adding a lacrosse program, but there is a long-term possibility they would do so.
"I just can't do it without having revenues in place," he said. "What you'll do is deplete the programs that you already have in place. Never say never, but it's probably not going to happen tomorrow.
"We love to add sports, but it's resource-driven. (Expansion is) not in our short-term plans."
Michigan's addition of lacrosse does not create an incentive for the Spartans to follow suit, Hollis said.
Some other topics broached by the ADs:
Social media

Brandon, on social media in college sports: "We spend a lot of time training our student-athletes on both the uses and abuses of social media, because in many cases these young people get caught up, as so many of their peer-group members do, in the use of this and trying to be cool and trying to be a little bit outrageous, because that's how you get noticed.
"Before you know it, your tweet, or your post, or your blog is circulating on the crawl of ESPN."
Hollis said he encourages his coaches and athletes to use Twitter and other social media platforms because "it's become part of our culture."
"I have a practice where I call in two or three student-athletes every week, sometimes good, sometimes bad, you never know, but it's kind of like being called into the principal's office based on things I read on Twitter."
Revenue sources

Brandon said Michigan's football program accounts for 66 percent of the athletic program's overall revenue.
"If a customer represents two-thirds of your ability to be successful, that's the equivalent of Michigan football," he said. "Michigan athletics cannot be successful unless Michigan football leads our success. So, that program needs to be healthy, it needs to be well-respected, it needs to be well led …
"I think it was Mark Twain who said, 'If you're going to put all your eggs in one basket, you better watch your basket.' And I watch Michigan football real close."
Athletics' place on campus

Brandon, on the role of intercollegiate athletics: "Sports are many times referred to as the front porch of a university. I can tell you, we have researchers all over campus right now making discoveries that will change the world. We've got people over there saving lives by the hour at our health systems.
"Chances are, none of that will be in the newspaper tomorrow, or reported nationally, but if Denard Robinson gets a hang-nail, it'll be on the front page."
Dolla, dolla bills

Notable numbers discussed by Brandon:
226 million: Dollars invested in renovations to Michigan Stadium.

20 million: Dollars spent on new scoreboards at the Big House.

97 million: Dollars spent on renovations to Crisler Arena.

14 million: Dollars spent on renovations to Yost Arena.

Brandon's motives

Brandon said building brands — which is a primary reason why he took the job at Michigan — is about more than the product that is put on the field.
"We're trying really hard to do some things with event execution that makes our events special. So, when you see people parachuting in with the game ball, when you see Lady Gaga tunes being performed by the marching band, when you see fans using technology in the stadium that afford people the ability to watch replays and keep track of scores, when you see fireworks when we host the largest hockey game in the history of hockey … our first (home) night game in 132 years of Michigan football Sept. 10, we're working really hard to create events that are memorable.
"Above and beyond the competition, which is most important, we want to create wows for our customers, those fans and those reporters who make that programs work."
Michigan Stadium revenue

Brandon said each of Michigan Stadium's 81 suites and 3,900 club suites have sold out this year, as well as every bowl seat except for scattered single seats.
"I'm not bragging, but we're blessed."
The moderator joked Brandon should figure out a way to take the Michigan football program public.
"Oh, I already know how to do that," Brandon responded.
How to monitor athletes
Brandon, on how to handle student-athletes: "I think every athletic director sleeps with one eye open, knowing that you're always, to a certain degree, at risk. You're talking about 18-, 19-, 20-year-old kids and, in many cases, from the time they've been 12, 13, 14, they've had people telling them how good they are, how important they are, how in demand they are, how much they're worth. And by the time we get them, in many instances, their attitude toward entitlement and their sense of self is so distorted.
"I played in the ice ages for Bo, but if I would have told (former Michigan football coach) Bo Schembechler, 'I'm going to have a press conference in the gymnasium at South Lyon High School, he would have killed me."
Public spotlight

Brandon, the former CEO of Domino's Pizza, on the demands of Michigan fans: "I used to think people had strong opinions about pizza. Now, if I piss off 20 percent of the people, I think I'm doing pretty good."
Kyle Meinke covers Michigan football for AnnArbor.com. He can be reached at 734-623-2588, by email at kylemeinke@annarbor.com and followed on Twitter @kmeinke.