Posted on
Sun, Dec 12, 2010 : 6:45 p.m.
Michigan athletic director Dave Brandon says Big Chill at the Big House may not be the last of its kind
By Jeff Arnold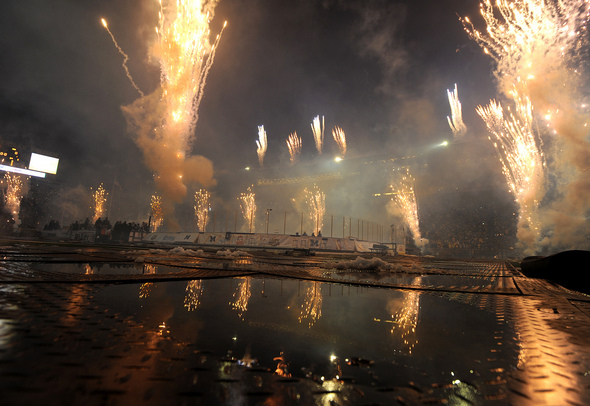 Lon Horwedel | AnnArbor.com
When Dave Brandon first announced plans for the Big Chill at the Big House, the Michigan athletic director characterized the event as once-in-a-lifetime.
It appears the success of Saturday's outdoor hockey game that drew an announced crowd of 113,411 for Michigan's 5-0 win over Michigan State has caused the Michigan athletic director to reconsider.
Brandon said Saturday night he could see a scenario where Michigan Stadium could host an outdoor hockey game every four years. The Big Chill was the second outdoor meeting between the Wolverines and Spartans and came nine years after The Cold War was played at Spartan Stadium.
"That's not something you do every year," Brandon said after the six-minute fireworks display that capped Saturday's day-long festivities. "You've got to make it special."
Michigan officials made sure the inaugural outdoor hockey game inside the 83-year-old Ann Arbor landmark was memorable. Fireworks highlighted a pre-game ceremony that also included a stealth bomber flyover and followed each of Michigan's five goals.
Microphones were placed at ice level, piping the sounds of the game into the stadium's bowl to provide fans a more traditional hockey experience. There were video highlights played on the end zone scoreboards throughout the game, leading up to a choreographed fireworks display set to music from "The Big Chill" movie.
"We really tooled it up to make it a great experience," Brandon said.
The production cost was estimated to be around $1 million, according to Michigan spokesman Bruce Madej. Nearly half of the budget was spent on the installation of the Olympic-sized rink the game was played on.
Although the threat of possible inclement weather worried Brandon, he deemed the event a success, partially because it introduced hockey to fans that may not have seen a game before.
"From a marketing guy's perspective, I think it was a great opportunity for sampling the product," Brandon said. "Our team played great and we won a big rivalry game and I'm hopeful that we'll see it show up in season ticket sales and single ticket sales at Yost because I think there's a lot of people today that really saw what Michigan hockey's all about."
Michigan hockey coach Red Berenson was also impressed with Saturday's production. He said the attention paid to the event was a positive step in further marketing college hockey.
While he said such a spectacle could lose some of its luster if done too often, Berenson said he wouldn't be opposed to seeing a similar event return to Michigan Stadium. Berenson's associate head coach, Mel Pearson, said early last week he would like to see an outdoor game played every four years, allowing each incoming freshman to play outdoors once during their Michigan career.
Although plans for any future outdoor games are far from even beginning, Berenson couldn't help but be impressed with the first one.
"This was really something," he said. "You can see as a participant that there was something special about it ... This was a great event and it was exactly as we advertised and it was the real deal. It couldn't have been any better. I'm not disappointed in anything, but I'm not surprised, either.
"Once they sold the tickets as quickly as they did and once we knew the weather was going to be OK and once we practiced all week and got used to that, there have been no hiccups in this whole scenario."
Jeff Arnold covers Michigan hockey for AnnArbor.com and can be reached at (734) 623-2554 or by e-mail at jeffarnold@annarbor.com. Follow him on Twitter @jeffreyparnold.