Posted on
Thu, Nov 17, 2011 : 5:57 a.m.
Goalie Luke Dwyer goes from rec leagues to Michigan hockey team's bench
By Pete Cunningham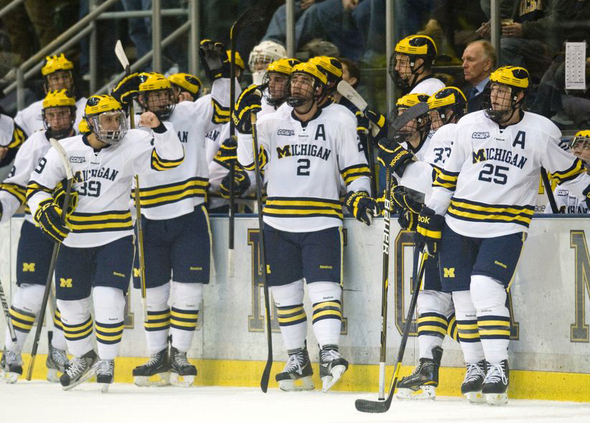 Joseph Tobianski | AnnArbor.com
Imagine you know nothing about the Michigan hockey team. Gazing upon the Wolverines' bench for the first time, you're given one chance to pick the player that spent his freshman year in adult recreation leagues around Ann Arbor.
One chance to pick the player who never competed at the junior level and, one month before classes started this fall, had absolutely no intention on playing college hockey.
You'd probably pick the only player without wings on his helmet, right? The one whose solid white facemask shines bright in a sea of maize and blue? You'd be right.
The man behind the white mask is third string goalie Luke Dwyer, a former Huron High School goalie who was in the right place at the right time this summer when top Michigan goalie recruit John Gibson decided to turn pro in late July. Gibson's decision opened a window for Dwyer.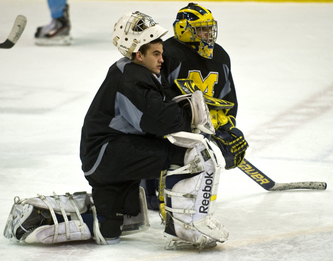 Joseph Tobianski | AnnArbor.com
With senior
Shawn Hunwick
as the solidified starter, Michigan coach
Red Berenson
decided recruiting a goalie from the junior leagues so late in the game wouldn't be a wise use of a scholarship.
"There were a couple recruitable goalies that we could have got this summer and we decided not to because it would be kind of a knee-jerk reaction to a situation," Berenson said.
During Berenson's summer camps, current and former players play every Tuesday and Thursday. While an attendee of the camp in high school, Dwyer had filled in for Bryan Hogan during some of the bi-weekly skates. Last summer, Dwyer filled in for Hunwick on a couple of occasions.
"We realized that Luke might be an option, so we talked to him and he was excited about it," Berenson said.
"You stop a guy like Jack Johnson, stuff like that, Red starts looking at him like, 'Wow, get some laps, he could be a possible fill-in,'" Hunwick recalls.
Because Dwyer was already enrolled in classes at Michigan, the team didn't have to worry about speeding someone through the admissions process. After graduating from Huron in 2010, Dwyer made the Port Huron Fighting Falcons of the North American Hockey League, but decided to attend Michigan instead.
"(Port Huron) would have been a great opportunity, but I just really wanted to come to school at Michigan," Dwyer said. "It's where I always wanted to come."
So he enrolled and moved on. Dwyer estimated he played hockey maybe 20 times during his freshman year in adult leagues around Ann Arbor.
But he missed playing at a competitive level, so decided to get back in shape over the summer in order to tryout for Michigan's club team. He was on the ice nearly every day.
When Berenson approached him with the prospect of being the low man on the Wolverines' totem pole, he was ecstatic.
"This is where I dreamed of playing my whole life growing up," Dwyer said. "It was a little luck, being in the right place at the right time, I'm just trying to make the most of it."
Dwyer said he doesn't mind his plain white helmet. It's not meant to be a dunce cap for a walk-on or some sort of cruel manifestation of the team's depth chart. It's simply the mask he owned.
Dwyer's been told he'll receive some team-issued gear soon, but from the sound of it, he'd play in his underwear if Berenson asked him to.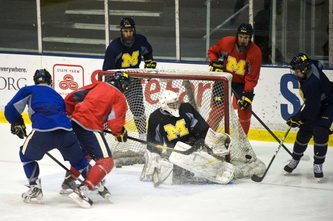 Joseph Tobianski | AnnArbor.com
"All my friends in the stands, they joke around about it, but I don't care what I'm wearing," Dwyer said. "I don't ask many questions. I'm happy to be here, so I just am showing up every day here to work and I don't really care about that kind of stuff."
Dwyer is not expected to play when the Wolverines host Ohio State at 7:35 p.m. on Friday and Saturday. In fact, he acknowledges that getting on the ice this year -- or ever -- is a long shot. It's a sentiment Berenson echoes.
Dwyer and senior forward Luke Glendening are the only players on the roster that did not play junior hockey, and even Glendening spent a year after high school playing at Hotchkiss School, a prep school in Connecticut.
"Normally it takes you a year or two of really competitive juniors hockey before you're ready to make that jump to the college level, that's why I'm trying to catch up right now," Dwyer said.
Dwyer need look no further for inspiration than Hunwick, who was also an unheralded, third-string, walk-on when he first came to Michigan and is now considered one of the elite goalies in all of college hockey.
"I just told him, 'Don't be content in the third spot,'" Hunwick said. "I know how hard it is. You don't really get to practice much, no one really expects anything out of you, so it's easy to slip through the cracks, you know, just go through the motions.
"I just tell him to work hard. You never know what's going to happen. Three or four years from now, I could possibly see him being the goalie. Especially when you look at myself, you definitely can't count anybody out."
Pete Cunningham covers sports for AnnArbor.com. He can be reached at petercunningham@annarbor.com or by phone at 734-623-2561. Follow him on Twitter @petcunningham.