Posted on
Thu, Oct 29, 2009 : 7:14 p.m.
Michigan's John Beilein wants innovative AD, offers Rich Rodriguez support
By Michael Rothstein
As Michigan begins its hunt for a new athletic director to replace Bill Martin, who announced his retirement last week, Michigan basketball coach John Beilein said he'd like to see someone who can maintain and enhance what Martin started.
Along with a man or woman who will pursue renovations of Crisler Arena, where Beilein spends the majority of his winter.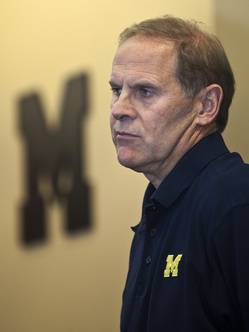 AP photo
"Really huge to understand, our new practice facility will be great, but attracting fans, it really has to be an environment people are comfortable in," Beilein said. "Having a good time and Crisler's been that for so many years but it can't be that forever."
Beilein, in his third year coaching Michigan's basketball team, isn't looking for a new arena but more of an overhaul to the existing structure. He likes the physical building, but as he travels around the country and sees other venues, he says Michigan must keep up in the always-evolving facilities battle.
It's why he, along with Michigan's marketing department, have already begun looking at what other schools have done with their arenas to get ideas for an eventual renovation of Crisler.
As for the rest of the athletic director search, Beilein joked that he isn't "in the running" for the AD job, but that he wants to see someone with a vision of the future.
"You'd like somebody that said 'OK, we've got that now. Let's not stop it. We've got to continue to be leaders and the best in all those areas,'" Beilein said. "And then he's someone who is also going to stay up on the cutting edge of how, just like your bosses have to stay on the cutting edge, everything's changing.
"By the minute, everything is changing. Someone who is ready to adapt."
As he keeps tabs on what is going on with the pending athletic director search, Beilein also isn't completely unaware of what is going on with Michigan's other major sport, football.
He said the NCAA investigation probing into the football team's alleged violation of practice hour rules hasn't affected his program at all, but he knows what's going on.
"You don't like to see any program go through that," Beilein said. "But we're so focused on what we're doing. We support Rich (Rodriguez), really support him through this. This is tough."
Beilein and football coach Rich Rodriguez both came to Michigan from West Virginia.
Michael Rothstein covers University of Michigan basketball for AnnArbor.com. He can be reached at (734) 623-2558, by e-mail at michaelrothstein@annarbor.com or follow along on Twitter @mikerothstein.