Posted on
Wed, Dec 30, 2009 : 3:20 p.m.
Michigan basketball team looks for strong Big Ten start against Indiana
By Michael Rothstein
The chance for redemption for the Michigan basketball team begins with the start of the Big Ten Conference season.
The Wolverines are 6-5 after a nonconference schedule that included a 3-5 finish. They open the 18-game Big Ten schedule Thursday at Indiana, 6-6 (noon, ESPN2).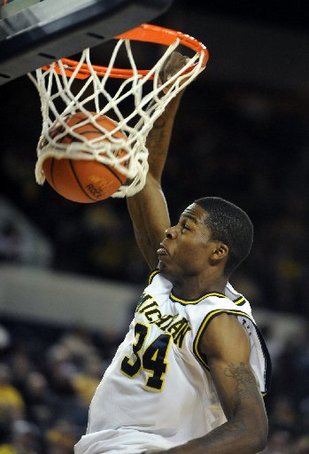 "It feels like a different season," senior forward
DeShawn Sims
said. "You know, because even if you go in with a winning record or you go in with a losing record, in the Big Ten they never talk about ... your other games besides your non-conference games, so you have to go in with the mindset of no matter what you did in the preseason, this is what dictates a lot."
For Michigan, that's a bonus.
Michigan coach John Beliein alluded to that earlier this month when he said the Wolverines still have a shot at an at-large berth in the NCAA tournament in part because of the strength of the Big Ten.
If Michigan were in the MAC or the Horizon or the Summit League, the Wolverines would likely have to win their conference tournament to earn an at-large spot. In the Big Ten, they can pick up enough big wins to have a chance in mid-March.
In order to do that, though, Michigan needs to make changes. First, the Wolverines have to shoot better. They are last among Big Ten teams with a .422 field goal percentage and last in 3-point field goal shooting at .290
Another theme: Michigan needs to be better defensively. The Wolverines enter league play ranked seventh in Big Ten defense, allowing 63.3 points a game, and they are last in rebounding margin at -3.6.
"Definitely defense," junior guard Manny Harris said. "That's something I'm stressing a lot more, on the defensive end. Our offense will come once we get confidence in our defense."
Lately, Michigan's defense has been better. The 1-3-1 was effective at points against Kansas and the Wolverines were dominant against a not-so-good Coppin State team.
Considering the way Michigan has played so far - no signature victory against any team that has a shot of sniffing an NCAA at-large berth, Michigan needs to pick up as wins early in league play to build the confidence Harris is looking for.
"We have to get out the gate pretty fast," Sims said. "We just have to come play with a different intensity and play to our abilities.
"The games we have at the beginning are good games with good opponents, and we can definitely get off to a great start."
Michael Rothstein covers University of Michigan basketball for AnnArbor.com. He can be reached at (734) 623-2558, by e-mail at michaelrothstein@annarbor.com or follow along on Twitter @mikerothstein.