Posted on
Sat, Mar 16, 2013 : 12:54 a.m.
Michigan beats Western Michigan 4-3 in opening game of CCHA quarterfinals
By Pete Cunningham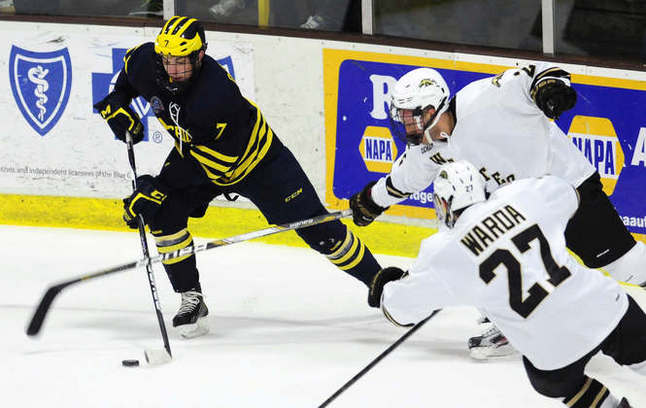 Matt Gade | MLive.com
One down, one to go.
The Michigan hockey team will need to win the CCHA Tournament to make the NCAA Tournament this year. It took another step closer on Friday with a 4-3 win over Western Michigan. The Wolverines need one more win in the three game series. The teams resume the series on Saturday (7:05 p.m.) and if necessary will play again on Sunday (7:05 p.m.).
The score was tied 3-3 in the third period when freshman defenseman Jacob Trouba fired in a slap shot to put Michigan (16-18-3) ahead for good with 10 minutes, 45 seconds left in the game.
"I think we've seen Frank (Slubowski) better," Western Michigan coach Andy Murray said of his sophomore goaltender. "I think he is an honest player and would say the exact same thing."