Posted on
Thu, Jun 16, 2011 : 5:56 p.m.
Michigan athletic department expects to double surplus in 2012 after 10th straight year in black
By Pete Cunningham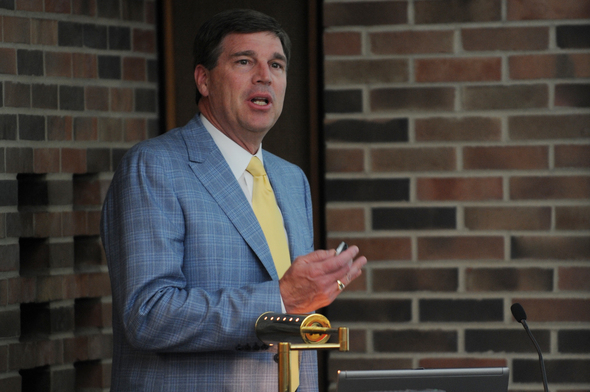 Melanie Maxwell | AnnArbor.com
The University of Michigan Athletic Department expects to more than double its surplus in fiscal year 2012.
At the University of Michigan Board of Regents meeting on Thursday, athletic director Dave Brandon presented a budget with anticipated revenues of $121.2 million versus expenses of $109.8 million, a surplus of $11.38 million.
The Michigan athletic department expects a surplus of $4.7 million for fiscal year 2011, which ends June 30. It will be the department's 10th straight year in the black.
"We're in a very strong financial position," Brandon said in a presentation to the Board of Regents. "We are forecasting another healthy growth year for Michigan athletics."
Two large reasons for the increase are the addition of an eighth home game for the 2011 football season and the fact that premium and box seats are, according to Brandon, "100 percent sold out, and a line is quickly forming."
The additional home game expects to bring an additional $4.63 million in revenue, while the premium seating revenue will bring in an additional $5.1 million.
The only reported loss in revenue according to the budget was due to not holding a Big Chill, which brought in $1.4 million in revenue.
According to the NCAA's annual report, released on Wednesday, there are 22 self-sufficient Division I athletic departments across the country with a median net surplus of $7.4 million.
Regent Andrea Fisher Newman pointed out that the athletic department contributes to the general fund in both tuition for scholarship athletes and through a donation, which this year will be $1.8 million, according to Brandon, down from $2 million last year.
Brandon added that 74 percent of scholarships are for out-of-state student-athletes. Cost of tuition and fees for the 2011-12 school year will be $12,634 for in-state students, $37,782 for out of state.
Pete Cunningham covers sports for AnnArbor.com. He can be reached at petercunningham@annarbor.com or by phone at 734-623-2561. Follow him on Twitter @petcunningham.