Posted on
Wed, Dec 9, 2009 : 4:13 p.m.
Michigan center Zack Gibson found a potential career - and love - through basketball
By Michael Rothstein
Kim Peters heard someone walking behind her in the tunnel in Crisler Arena two years and two months ago. She turned and saw Michigan basketball player Zack Gibson.
They had never spoken and both muttered an awkward, "Hi." At the time, Peters brushed it off as another encounter with one of the many basketball players she'd deal with as one of Michigan's student managers.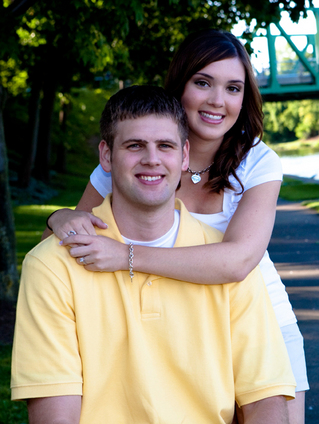 She couldn't have known it was the first time she met her future husband.
How Kim Peters and Zack Gibson reached this point, engagement with a summer wedding planned, came about through basketball.
Gibson first contacted her by instant message after finding her screen name on the Facebook page she barely uses. By the end of the first conversation, asked for her phone number.
"The next day or whatever, he called me," Peters said. "Then we saw each other at practice from there on, and then we started talking at practice a little bit and that's how it started."
Their first date consisted of dinner at Olive Garden with Gibson, Peters and two of Peters' roommates - her rules. Eventually, though, they began talking and by December 2007, Peters and Gibson were dating.
This wasn't something either one of them expected - either when Gibson transferred from Rutgers to Michigan or when Peters decided to become a manager.
They kept the new relationship quiet. They went to dinners away from campus and sometimes out of Ann Arbor in an attempt to eliminate potential awkwardness in the Michigan basketball program.
They'd find restaurants on Carpenter Road. Or they'd go to Ypsilanti, which ended up being where one of the coaches first caught on in February 2008.
Gibson and Peters were at Applebee's in Ypsilanti. When they walked in, sitting in the restaurant was Michigan assistant coach Mike Jackson.
"We were so nervous," Peters said. "We were sitting at the table with our backs to him and I was peeking over and then he finally saw, and he didn't really care.
"The end of the year was when people finally started finding out."
Throughout the course of the year, Peters told a couple of managers she was close with. Gibson told Anthony Wright and Gibson's roommate, C.J. Lee, knew what was going on.
But they weren't broadcasting it. Not during John Beilein's first year as coach and while Gibson was trying to become acclimated to his third coach over two schools and the team was struggling to win.
"It wasn't an issue, at least I didn't see one at all," Lee said. "I think it shows his level of maturity, too. He wasn't hiding the fact that he was with her. He was acknowledging the fact that he cared a lot about Michigan and a lot about her, too.
"That shows a lot of maturity on his part."
Gibson knew he wanted a future in basketball. When Michigan hired Beilein, he found a system that fit his skills - he describes the way he plays as almost like a European center - and would allow him to thrive. His ability to shoot from the outside as a big man fit exactly into what Beilein likes. Gibson is averaging 6.9 points and 4.4 rebounds a game this season.
That Gibson met Peters was an added perk - a life-changing one, mind you - from transferring from Rutgers to Michigan after Gary Waters was fired.
"Most guys come in (to college), four years, one coach, one weight trainer and done," Gibson said. "Mine didn't quite work out that way."
Instead Gibson had two schools. Five years. Three coaches. Four weight trainers. And a fiancée.
Once Gibson and Peters' relationship became common knowledge, neither Peters nor Gibson said anyone around Michigan's basketball program made it a big deal. Peters remained as a manager her junior year and while she didn't travel, she called that decision her choice.
Soon, Gibson and Peters realized this might be a long-haul relationship. They had spent at least part of almost every day together, be in at practice or after although Gibson said having his girlfriend running the game and shot clocks was never a distraction.
And their interests were the same. They met through basketball, but found a common love for the television shows 'Family Guy' and 'The Biggest Loser.' They'll occasionally play tennis together.
"We just enjoy each other's company," Gibson said.
And after last season, Gibson made a decision. He wanted to marry Peters. So he bought a ring - something Peters said he didn't hide too well from her four roommates - and formed a plan.
One Saturday night in the spring, with finals approaching, Gibson took Peters to The Champion House because Peters loves Japanese Hibachi steakhouses. Then he brought her to La Dolce Vita, where he had the chef's prepare her a special dessert.
Peters knew something was up because both places were fancier than the typical college student fare. Yet dinner and dessert came and went. They went back to Peters' house and she went to talk with her roommates. Gibson went to her room.
"A half-hour later, I had lost track of time, so I went to see what Zack was up to," Peters said. "Well he went up in my room and somehow had snuck in a bouquet of pink tulips, my favorite flower, and he had them on my desk and he had the room all nice, and I walked in and was like 'What are these flowers here for?'
"And I walked over to look at them and turned around and he was down on one knee with one of the tulips from the bouquet and he had the ring tied on the stem."
At 6-foot-10, Gibson kneeling came brought them eye-to-eye. She accepted.
With that, Gibson became a rarity in college basketball - a player engaged before his eligibility was up.
"It's different knowing that just having the fact that you have someone you're going to get married to soon," Gibson said. "But in the locker room it doesn't affect me. I'm the same guy with all my teammates.
"Nothing changed."
Well, not exactly.
While Peters is handling most of the preparations for the July 17, 2010, wedding at the First Presbyterian Church of Pittsford in her hometown of Pittsford, N.Y., Gibson is getting addresses for the guest list. He went back to Pittsford with her a couple of times to pick out a banquet hall and other accommodations.
And as his potential professional basketball career begins, he'll also be a newlywed.
"We've talked about it a little bit," Gibson said. "She's excited to get her career started in nursing but we'll see what happens in basketball afterward.
"If I can play overseas or wherever I can play. If it's a good situation, she said she'll go over there with me."
And so new their lives will begin, perhaps in a faraway land, together just a few years after an awkward glance in the Crisler tunnel led to all of this.
Michael Rothstein covers University of Michigan basketball for AnnArbor.com. He can be reached at (734) 623-2558, by e-mail at michaelrothstein@annarbor.com or follow along on Twitter @mikerothstein.