Posted on
Tue, Jun 8, 2010 : 2:26 p.m.
Michigan outfielder Ryan LaMarre goes in second round to Cincinnati Reds
By Jeff Arnold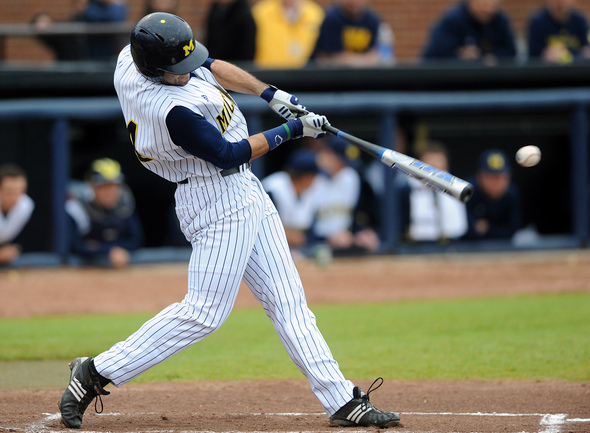 After waiting hours Monday night only to not hear his name called during the first round of the Major League Baseball Draft, Michigan's Ryan LaMarre's wait on Tuesday lasted less than 30 minutes.
The Wolverines' junior outfielder was selected by the Cincinnati Reds Tuesday, taken with the 62nd pick overall, just 12 picks into the second round.
"Last night was probably the least sleep I've gotten just with all the expectations from all the teams I had heard from," LaMarre said in a phone interview Tuesday afternoon. "But it's over now and so I'm glad."
LaMarre led the Wolverines with a .419 batting average and also ranked first in slugging percentage and on-base percentage in 35 games. The Jackson native missed several weeks early in the season after breaking his thumb while diving to try to make a catch in the third game of the year.
LaMarre said he expects to sit down with Reds officials next week to try and iron out a deal. He's anxious, though, to get his professional career going despite having to wait until the draft's second day to find out where he'd be going.
Baseball America had LaMarre listed as the No. 32 prospect in the draft. LaMarre was an outside chance to be chosen in the first round, which Michigan hasn't had a player chosen in since Dave Parrish was taken by the New York Yankees in 2000.
A total of 50 players were selected Monday night during the first and compensation rounds. LaMarre said based on the feedback he had received from a number of teams he had contact with, he expected to be chosen Monday night.
"I was pretty disappointed, but looking at the big picture, if you would have told me I would have been a second round draft pick three months ago after I broke my thumb, I would have told you you were crazy," LaMarre said. "But I'm definitely excited.
"It's a relief to go in the second round - it would have been nice to go in the first round, but at the same time, that just gives me a little chip on my shoulder and hopefully prove 29 other teams wrong."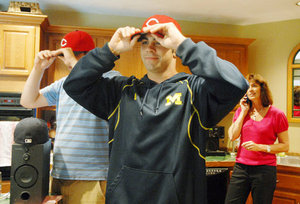 LaMarre spent Monday night pacing around his family's Jackson home, waiting for his name to be called. Surrounded by family members and his coach,
Rich Maloney
, LaMarre watched as some surprise picks during the first round jumbled the draft boards most experts had set up.
LaMarre hadn't had many discussions with the Reds, who weren't among the teams that the 6-foot-2, 206-pound outfielder worked out for. Reds' officials didn't expect LaMarre to be available at No. 62, but grabbed him when he was still among the available players on the board.
LaMarre was the first of five Michigan players selected Tuesday. Junior pitcher Matt Miller went in the fifth round to the Milwaukee Brewers, who chose Miller with the 159th pick. Pitchers Alan Oaks (8th round, Florida) and Tyler Burgoon (10th round, Seattle) were also chosen on the draft's second day as was catcher Chris Berset, who went to the Reds in the 20th round.
Maloney believes LaMarre will be able to make a smooth transition to the next level.
"I think Ryan's an outstanding talent," Maloney said. "He's an extremely hard worker, he's tough, he's gritty and has all the intangibles. His arm works, his bat has power, he's a tireless worker and he can run. I think if you look at the whole package, I think that's what he is."
Jeff Arnold covers sports for AnnArbor.com and can be reached at (734) 623-2554 or by email at jeffarnold@annarbor.com. Follow him on Twitter @jeffreyparnold.