Posted on
Mon, Dec 21, 2009 : noon
Michigan coach Rich Rodriguez talks Donovan Warren, recruiting
By Dave Birkett
Michigan coach Rich Rodriguez said in a radio interview Monday he wishes cornerback Donovan Warren would have got more information before declaring for the NFL draft.
"I probably would have preferred to wait until I get the NFL advisory committee information back, which I have not gotten back yet," Rodriguez said on WDFN 1130-AM. "I don't know if he talked to enough people yet or not, but he feels he has. I kind of wish he got a little bit more information so he would have been sure before he made his declaration."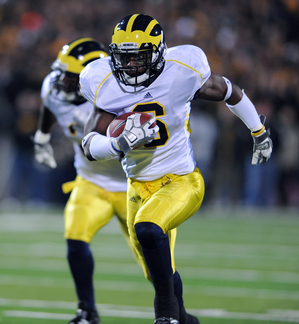 Lon Horwedel | AnnArbor.com
Rodriguez said the advisory committee typically calls both the player and his college coach once it determines where the player projects to be drafted.
Warren said in announcing his decision to turn pro Sunday that the committee gave him "a broad range, rounds 1 to 3."
"Once I got that back I pretty much just knew it was pretty much going to be up to me and how I work out," he said.
Rodriguez said he wasn't aware the committee had responded.
"I know he was in Baltimore," Rodriguez said. "I know he talked to several people there with their organization or somebody within the organization, and I think he talked to some others."
Warren's godfather is Baltimore Ravens defensive backs coach Mark Carrier.
Warren did not respond to a text message Monday morning, but he acknowledged Sunday he was taking a risk by leaving early.
"I want to take advantage of it right now while it's in front of me knowing that anything can happen next year as far as injury and all that," he said.
The junior led Michigan with 4 interceptions last year.
Rodriguez also addressed his team's recruiting efforts in his radio interview Monday;
• On where his team is recruiting: "We think recruiting's going very well, which it needs to. Particularly on the defensive side of the ball we've got quite a few spots that we've got to try to provide some competition with. But we're very excited about where we're at commitment wise.
• On how many players Michigan will sign in February: "We're going to be able to sign a full class of 25, which is the most. I wish we could sign 30 or 32, particularly for us defensively. Our numbers defensively have been way down. I don't think it's no secret the last year or 2, particularly defensively, our scholarship numbers have been way below the amount you should have. So we're going to get caught up in the next 2 years and it's scary when you think about young guys playing on that side of the ball, but we've got some talented guys in the recruiting aspect we can plug in there, plus we've got some young guys on the team coming back that with a good offseason program and another year of solid commitment from them we'll be OK."
• On where the program is after 2 losing seasons: "I think our guys are making progress, but we're disappointed that we didn't finish well. Certainly the last half of the season did not go the way it projected and we've got to make sure that we're good enough that we can overcome some tough spots, some injuries and some poor play and some things that happened to us at the end of the year. I've said all year that we want our program, to have everybody involved in our program, all in. And I think our guys were all in, we just didn't progress, particularly defensively, the way we wanted to at times during the season and we're working to fix that."
Dave Birkett covers University of Michigan football for AnnArbor.com. He can be reached by phone at 734-623-2552 or by e-mail at davidbirkett@annarbor.com. Follow him on Twitter @davebirkett.