Posted on
Thu, Nov 5, 2009 : 5:52 p.m.
Michigan football could benefit from muddy Big Ten bowl picture
By Dave Birkett
Bowl executives with ties to the mediocre Big Ten could have their hands full in the coming weeks sorting through a host of six-win teams.
If form holds and favorites win, Michigan, Michigan State and Northwestern all will be looking at 6-6 seasons and vying for spots in the Alamo, Insight and Little Caesar's Pizza bowls.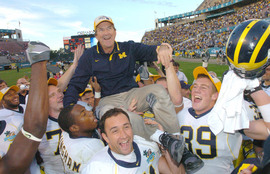 Alan Warren | The Ann Arbor News
Michigan (5-4, 1-4) needs a win Saturday against Purdue to become bowl eligible after missing the postseason last year for the first time since 1974.
Minnesota is another good bet for six wins if it loses this week to Illinois, while Purdue, Indiana and Illinois are longshots for the postseason.
The Boilermakers (3-6, 2-3) must win out to qualify for a bowl.
"This is an odd year," said Champs Sports Bowl executive director Steve Hogan. "There's not going to really be a lot of clear-cut reasons why any particular team is more deserving than another. My general sense is, when you have a wide swath of .500 teams then there's really nobody that rises to the top of that mix to say, 'We've earned it, here's why.'"
Hogan's game has fourth pick among Big Ten teams this year - behind the Rose, Capital One and Outback bowls - or fifth if the BCS takes two Big Ten teams, a distinct possibility if Iowa and Penn State both finish with one loss.
In that scenario, the Champs Sports Bowl could end up with a 6-6 Big Ten team. Typically, the game would get an 8- or 9-win team with the fourth selection.
So what factors figure most heavily into bowl selection when it comes to choosing between like teams? Every bowl director has a different answer.
Little Caesar's Bowl CEO George Perles said his first choice in the case of multiple 6-win teams is Michigan State, the team he used to coach.
"Michigan would be great, too," Perles said. "We hope we would (have one of those two). It'd be a logical thing. We'd fill up the place. We'd probably have to have some cooperation from some other teams."
That's because Michigan would be first in the pecking order among most second-tier bowls who don't normally have the opportunity to land one of college football's most illustrious programs.
The Wolverines have never played in the Champs Sports or Insight bowls, and last played in the Alamo Bowl, which picks after Champs Sports, in 2005. The Insight Bowl picks sixth, followed by Perles' game.
Alamo Bowl CEO Derrick Fox said Michigan was well received in its last trip to San Antonio, both by alumni and the local fan base.
"It'll be interesting to see, missing a year last year, what kind of response they'll get from the fan base," Fox said. "Obviously, it's highly likely they're going to get to at least No. 6 and then we have to see how many wins they get to after that to see where they go."
Hogan, who doubles as Capital One Bowl executive director - the last bowl Michigan played in two years ago - said he values fielding competitive, on-the-rise teams over ones who'll sell the most tickets.
Other factors include head-to-head results - Michigan lost to Michigan State, but doesn't play Minnesota or Northwestern - recent appearances (MSU has played in Orlando the last two years, first in the Champs Sports game and last year in the Capital One Bowl) and, especially in the current economy, local alumni populations.
Michigan scores high marks in every area.
"Michigan absolutely is one of those in the group that usually is a can't miss as it relates to a selection from the standpoint of what product there is, not only the team that's coming but what they do to the base of the other team they're," Hogan said. "Michigan is one of the premier coast to coast brands, so they certainly move the needle."
Dave Birkett covers University of Michigan football for AnnArbor.com. He can be reached by phone at 734-623-2552 or by e-mail at davidbirkett@annarbor.com. Follow him on Twitter @davebirkett.