Posted on
Sun, Dec 26, 2010 : 9 a.m.
Michigan defensive end Craig Roh uses his faith and belief to help
By Michael Rothstein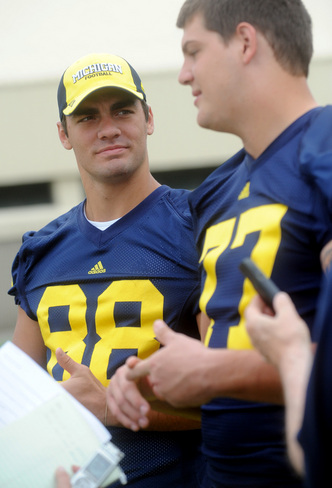 AnnArbor.com file photo
Craig Roh took the sledgehammer, wielded it in his massive hands and struck down into the concrete with all the force he could muster. Over and over again for nearly a week straight.
The Michigan defensive end turned into a construction worker. Far from his Arizona home and his college campus in Ann Arbor, Roh spent a week in New Orleans last March with other Michigan students, helping to rebuild areas still crushed from the effects of Hurricane Katrina five years ago.
"You only get a week there. You can't build a whole house in a week," Roh said. "And these were actually pretty nice houses, so you'd help with one phase of it. The phase that I, and some other guys, helped with was tearing out some stuff.
"Cement. Breaking up tile. Crashing through walls."
While he crashed through walls as part of Presbyterian Disaster Relief, the experience strengthened Roh's already-strong bond with his religion.
Often in sports, athletes reference God and their faith almost automatically — as the reasons they score touchdowns or beat other teams or remain healthy.
Roh is different. His bond with Christianity runs through every fiber of his life.
"That's the foundation of my being," he says.
It started early Missionary trips started when he was in middle school at Paradise Valley Prep. The Roh family headed to Mexico to work with Ywam, a missionary group based in California.
They stayed in a dingy hotel for a week. In the distance, Roh's father, Fred, said they watched families living in burnt-out cars and cardboard boxes. It was a long way from the upper-class life Roh was used to in Scottsdale, Ariz.
The week started with a 500 square foot concrete slab on the ground. With wood already measured and cut, they were assigned to nail boards together and set up walls for the two-room house they were trying to build.
Through passion, love and hard work, the slab became a house and turned into a home for a family desperately in need of one. Without any of the Ty Pennington glitz, back story and drama of network television, the program hands over the keys to a family that needs it.
"Unlike a lot of service projects, it's so tangible," said Fred Roh. "It's a house.
"…In this neighborhood, it was the third or fourth house they built. It really is an experience for the kids to see the look on the face of this family, with these kids, and they think they are moving into the Taj Mahal. It affects everybody, the parents and the kids."
It changed Roh.
When he returned home to Arizona, half of his home was without heat. His mother, Cynthia, wanted to buy space heaters until a repairman could make it to their house. Roh scoffed.
"He was like, 'Mom, these people don't have any of that,'" Cynthia said. "I was like, 'Yeah, I feel really bad. But can we still go get the space heaters?'
"It really struck him. He's never been a really materialistic kid anyway. He's the type of kid that you had to talk him into getting a new pair of shoes."
Even now, Roh points to that trip when he realized he wanted to spend at least a portion of his life dedicated to helping others.
He doesn't talk about it a lot and he likes to remember it as just one of the myriad adventures of his life, but he realizes the impact that trip made on him.
"You'd try to communicate with the people," Roh said. "I was in seventh grade and my Spanish level was not great. They were so grateful.
"It put everything in a different perspective with me."
An Odd Combination So how does someone so involved in helping others end up as a football player whose main job is to try and hit opponents as hard as possible? Mainly because opportunities for 6-foot-5 centers with no jump shot don't really exist.
Roh grew up around basketball, although he showed potential when he played on his first Pop Warner football team in third grade. When opposing quarterbacks snapped the ball, he'd break through the line and tackle them as they tried to hand off.
By high school, football became the focus.
"(In) high school we had a big football program and the basketball program wasn't as large, so really got into football," Roh said. "I thought I probably could play Division I football, wasn't sure where or how many offers I'd get."
He received a lot. Much of the Pac-10 was interested. So was Michigan. Initially, Roh thought he'd end up going to USC, UCLA or Cal because he wanted to leave Arizona, but not go too far.
AnnArbor.com file photo
Then he visited Michigan and the coaching staff "seemed real."
"Rich Rod, his dad was a coal miner," Roh said. "Obviously coaches, to a certain extent in recruiting, tell you what you want to hear. But this staff, I felt, told me what was going to happen.
"I had a pretty good chance to play and I really loved the school and the campus."
Once in Ann Arbor, Roh did what he'd always done before. He immersed himself in the culture of the place, both with football and everyday life.
When he found out he'd start his first game the night before the season-opener against Western Michigan in 2009, he called Cynthia as she boarded a flight to Michigan. Roh started all 12 games that freshman year, making 78 tackles.
This year, bouncing between linebacker and defensive end, Roh had 41 tackles and forced two fumbles.
Meanwhile, he tried to squeeze in daily Bible study, academics and trips to C.S. Mott Children's Hospital to try to fulfill the other, equally-as-important side of his life.
There were times it wore on him. Roh's father said he and Michigan defensive coordinator Greg Robinson both talked to him about the amount he had on his schedule.
But he wouldn't give up what was important to him off the field.
"We kind of told him you don't have to do everything all the time," Cynthia said. "You can do this and work on it and then when you have some time, go do that.
"Don't get pulled in so many directions."
Heading South Finding life away from football at Michigan is how he teamed with former men's basketball player Ben Cronin and others in Young Life, a Christian ministry on the Michigan campus, to go to New Orleans.
Helping others became such a focus for him, he shook off his own health to do it.
"When he went down to New Orleans, he had a bad injury in his groin and I wanted him to come home and get it fixed up because we had really quality medical people here to get it fixed up," Fred Roh said. "He wanted to go, regardless.
"That groin injury got aggravated more and it lasted all the way up to the beginning of the season, totally affected him training all the way until the season started."
Roh didn't care. He wanted to again experience helping others. It's not for him, he insists — it's for them. It is for being part of a community and trying to help others rediscover their footing in the world.
In New Orleans, he was able to do that.
And Roh has plans for more after the Wolverines play Mississippi State in the Gator Bowl on Jan. 1. He said, health-permitting, he's contemplating a trip to Orlando this spring break to help build another home for another family.
It's just part of who he is.
"The best part was, I'd say, just the community we were with, how everyone would bond toward a greater goal," Roh said. "Everyone was just so unselfish and it's when you put people in a place where they are serving, everything just flows."
Craig Roh is part of communities all over the place — in Arizona, at Michigan, inside Schembechler Hall. And at each place his goal is the same. It is modest and it is noble.
Help. Serve. Make the best of it all.
Michael Rothstein covers Michigan basketball for AnnArbor.com. He can be reached at 734-623-2558, by e-mail at michaelrothstein@annarbor.com or follow along on Twitter @mikerothstein.