Posted on
Thu, Sep 16, 2010 : 6 a.m.
Michigan defensive tackle Greg Banks aims to play his position, not to replace Brandon Graham
By Jeff Arnold
Greg Banks entered his senior season as one of the big, looming questions on the Michigan football team's defense.
Outsiders wondered how the Wolverines would respond to back-to-back losing seasons, how the secondary would perform without Troy Woolfolk and how tough the defensive line could be without standout defensive lineman Brandon Graham.
For Banks, the final question was personal because the 6-foot-4, 285-pound fifth-year senior was moving into Graham's spot. This week, Banks talked about expectations - both personally and collectively - and how having Graham as his mentor has helped.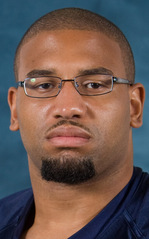 Q: Two games into the season, how would you assess the defense?
A:
I think we're getting there. I think people can see that and we can see it in ourselves and we're starting to believe in ourselves a lot more. That's not to say we weren't believing in ourselves. It's just that we're starting to find our identity as a team and our individual parts are starting to work together.
Q: After Notre Dame scored late last week to take the lead, what was the attitude of the defense? Was it hard to stay up knowing you probably had to go out there again?
A: I wouldn't say we were low about it. It was more like, 'Man, we slipped up,' and we always talk about how you have to stay in the moment. That play happened one play ago, and so we had to flush it so we could be ready for the next play.
Q: People talked about what the defense would be missing without Brandon Graham. As the guy moving into his spot, how did that motivate you?
A: I mean, he's Brandon Graham - what more can you say? I came in with him my freshman year, and I still talk to him now even though he's in Philadelphia. But there were some articles that were written about me that said I couldn't replace him and that none of us could replace him. But it's not the player - it's the position. So you have to step up to the position.
Q: What did you learn most from Graham as a teammate?
A: Just to be myself. I can only play within my limits, and I talk to him every day - before every game, before practice. So it's not really anything different (than when he was at Michigan). He'll say, 'Use this move, use that move.' Stuff like that. He calls us and teases us about stuff we could have done and the plays that we missed.
Q: What's it like to have someone like that and to have that kind of communication with someone who meant so much to this defense?
A: It's great - not many people have that communication - not just in college, but in life, period. He's a great friend of mine that I will have the rest of my life. We've gone through a lot of struggles - even when we came in together our freshman year. So the expectation (from Graham) is big, and he expects a lot out of us because he was with us as a defensive line, and so he knows what we can do individually and as a unit.
Q: What's the expectation now that this team is ranked? Does it change anything?
A: We don't really look at rankings. We're still playing like we're ranked 80th in the nation, so that's about how we feel about that.
Q: Was that pre-season ranking something coaches used to motivate you as a team?
A: No, I mean, it was the truth. If you go back and look at some of the rankings they had, that's where we were at. So it wasn't a marketing ploy for our team or it wasn't something to push us. It was the truth, and that's another reason we're playing - it's reality for our team. We need to earn everyone's respect back, and that's what we're trying to do. We play within our group, within ourselves, within our team and we said, 'You can make this team special this year.' It's about what do you want to be remembered as the 2010 team, so that pushed us.
Jeff Arnold covers sports for AnnArbor.com and can be reached at (734) 623-2554 or by e-mail at jeffarnold@annarbor.com. Follow him on Twitter @jeffreyparnold.