Posted on
Sat, Nov 21, 2009 : 6:50 p.m.
Michigan football team falls to Ohio State, finishes last in the Big Ten
By Dave Birkett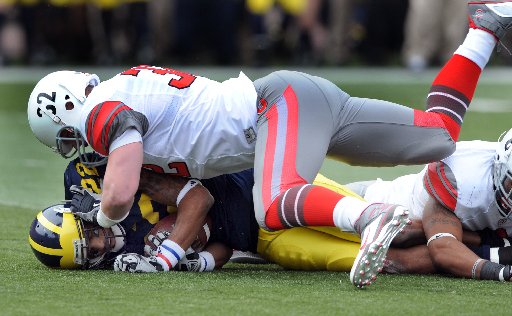 The most humbling year of
Rich Rodriguez's
coaching career came to a merciful end Saturday.
Ninth-ranked Ohio State took advantage of five Tate Forcier turnovers to beat the Wolverines for the sixth straight time, 21-10, in a rivalry that's turned lopsided. After a 4-0 start and brief appearance in the Top 25, Michigan closed the season with seven straight Big Ten losses and finished tied for last in the conference for the first time since 1962.
The Wolverines will miss a bowl for the second straight year after making 33 consecutive postseason appearances. Rodriguez, 8-16 in two seasons at Michigan, is the first Wolverines coach to lose his first two games to Ohio State. "How much does a man got to get humbled?" Rodriguez said after the game. "I'm tired of being humbled." It wasn't the bloodbath some expected, but Saturday's details were gory nonetheless. Forcier fumbled in the end zone on Michigan's first possession - Ohio State's Cameron Heyward recovered for a touchdown - and threw four interceptions, three in the fourth quarter. He said he wasn't allowed to speak with reporters after the game, but later sent a text message to The Associated Press that read, "I lost that game." "This offseason, I'm gonna make sure myself and every single person on this team work the hardest we have ever worked," Forcier wrote. "We're gonna come back a new team. I'm not going to let this happen again." Ohio State (10-2, 6-2) controlled play most of Saturday with a conservative game plan. Quarterback Terrelle Pryor threw for just 67 yards, but the Buckeyes amassed 251 yards rushing and dominated time of possession in the second half. Michigan's lone touchdown came on an 18-yard pass from Forcier to Vincent Smith early in the third quarter after an Ohio State interception. Smith juked one Buckeye defender at the 3-yard line and dove in the end zone. The Wolverines (5-7, 1-7) had three other scoring chances, but Jason Olesnavage missed a 24-yard field goal wide right in the first quarter and Forcier was picked off in the end zone midway through the fourth. Olesnavage also made a 46-yarder just before halftime. He finished the season 1-for-4 on kicks of 26 yards or less and 10-of-11 on kicks of 27 yards or longer. "There's never one reason you lose games," Rodriguez said. "Turnovers and beating yourself certainly doesn't help, but there's a multitude of reasons why you don't win." Brandon Saine and Dan Herron did most of the damage for Ohio State, which won its fifth straight Big Ten title. Herron rushed for a game-high 96 yards on 17 carries and scored the backbreaking touchdown on a 12-yard pass late in the third quarter. Saine had 12 carries for 84 yards and a touchdown, and Pryor ran for 74 yards for OSU. Forcier, who pledged last week to send Michigan's seniors to a bowl game, finished 23-of-38 passing for 226 yards. Michigan seniors leave without ever having beat Ohio State. "This is what you dream of," said Ohio State safety Kurt Coleman, who had two interceptions. "We've worked so hard every year and I think of the tradition we've had and we wanted to keep it going. I'm able to say I left a lasting legacy against Michigan." For Michigan, the bitter off-season is just beginning. The NCAA is expected to conclude its investigation into whether the football program violated rules concerning practice time within the next month, and Rodriguez is under fire for another underachieving season. Athletic director Bill Martin and university president Mary Sue Coleman have voiced their support for Rodriguez, but Martin is set to retire as soon as Coleman hires another his replacement. Rodriguez said he and his staff have identified most of the problems that ail the program, including recruiting shortfalls "the last three (or) four Februaries," and promised better days are ahead. "We'll beat Ohio State when we're better than them," Rodriguez said. "When we have a better team than them, we'll probably beat them. It's as simple as that." Dave Birkett covers University of Michigan football for AnnArbor.com. He can be reached by phone at 734-623-2552 or by e-mail at davidbirkett@annarbor.com. Follow him on Twitter @davebirkett.