Posted on
Fri, Dec 11, 2009 : 3:08 p.m.
Michigan football players enjoying a different stage
By Dave Birkett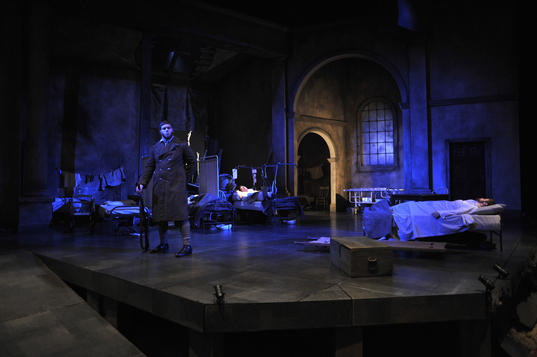 Courtesy of Peter Smith/University of Michigan
David Cone made his acting debut as a 12-year-old, when he spent 6 days as an extra on the set of the movie, "The Legend of Bagger Vance."
Cone's most memorable scene came late in the film, when Matt Damon's character, local golfer Rannulph Junuh, sinks a hole-in-one and Cone sprints across the street to celebrate with other townspeople.
"It was a lot of fun," Cone said. "But (my acting aspirations) kind of got put on the back burner with sports."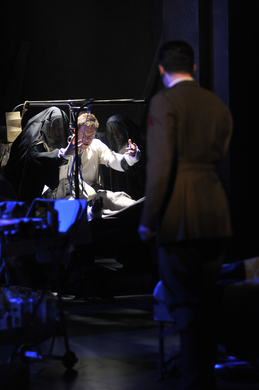 Courtesy of Peter Smith/University of Michigan
He made his theatrical debut Thursday, along with fellow outgoing senior offensive lineman David Moosman, in the university's production of "Macbeth." The play runs through Sunday at Power Center.
For Moosman, acting is a one-time deal. He gets academic credit for his role as a soldier who helps lead Macbeth on and carry dead bodies off stage.
For Cone, who plays both a wounded soldier and a ghost in an apparition scene, it could be the start of something more.
The Statesboro, Ga., native took a stage-acting class last semester and is enrolled in a film-acting course this spring. He plans to try out for a student-run play next year - for a main-stage production like "Macbeth," starring roles are reserved for theatre majors - and is looking into classes at Savannah College of Art and Design once he graduates in May.
Cone said he might make his way to Hollywood eventually, though "Macbeth" has "really opened my eyes toward theater."
"It's a lot of fun, especially performing live," he said. "The adrenaline rush is pretty cool."
Though he hardly qualifies as an expert, Moosman, who joked of his own non-speaking role this weekend, "I feel like my acting doesn't need voice to show my true talent" - said Cone is convincing as an actor.
"He's really passionate about it," Moosman said. "I don't know if he knew this is where his passion lay until recently, but I really think this is what he likes to do. It's a tough business, but with that kind of love for what you're doing it kind of shows through. He'll make it work."
Like other Michigan football players who've made cameos on stage recently - Jake Long, Chad Henne, Mario Manningham, Will Johnson and Jamar Adams among them - Cone and Moosman made their theatre commitments work around the Wolverines' 5-7 season.
Cone, who played in 3 games and attempted 5 passes this year, said rehearsal began Oct. 22, 2 days before Michigan played Penn State. Typically, he and Moosman were called in for readings twice a week, on Sundays, their off day, and after practice mid-week.
Moosman, who started 11 games at guard and center, said he's taken some good-natured ribbing from "guys getting dragged by their girlfriends to go" see the play. Otherwise, coaches and teammates have been supportive.
"It's something fun to do to sort of expand your horizons in the Michigan campus," Moosman said. "This university has so much cool stuff and it's cool to sort of get outside your boundaries every once in a while."
Or, like Cone, expand them permanently.
"I like (acting) a lot," Cone said. "I feel like I have to sharpen up my craft before I would move anywhere. But I like it a lot and hopefully the more I work at it the better I'll get."
Dave Birkett covers University of Michigan football for AnnArbor.com. He can be reached by phone at 734-623-2552 or by e-mail at davidbirkett@annarbor.com. Follow him on Twitter @davebirkett.