Posted on
Wed, Mar 24, 2010 : 2:50 p.m.
Michigan, Fort Wayne have a chance to show NCAA that neutral hockey sites can work
By Michael Rothstein
Nearly 50 years ago, Red Berenson stepped into the Allen County War Memorial Coliseum for the first time. He was just starting his professional hockey career.
He was playing with Hull-Ottawa in the Eastern Professional Hockey League in 1962-63, which played an interlocking schedule with the Fort Wayne Komets of the IHL. On Friday, he'll step inside the arena again, this time as the longtime coach of the Michigan hockey team. 
Michigan faces Bemidji State at 7:30 p.m. in the first round of the NCAA tournament.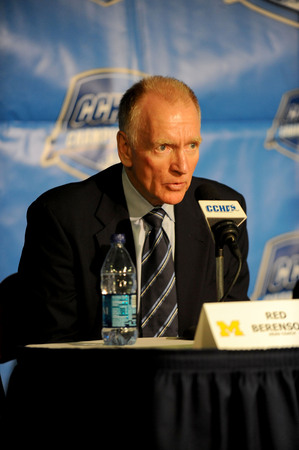 Angela Cesere | AnnArbor.com
"You never know," Berenson said. "Even when you're coaching and you're scouting, even when I was coaching in the NHL, I scouted in some rinks I thought I'd never be back (in), minor league rinks. So and then I came back here, and I got into rinks worse than that."
It'd be understandable Berenson couldn't have expected return trips to Memorial Coliseum after his playing days were done. Buildings disappear, relics replaced by modern conventions.
Memorial Coliseum, as it is known to locals, opened in 1952. It was the first home of an NBA team - the Fort Wayne, now Detroit, Pistons - and hosted the 1953 NBA All-Star Game.
Things have changed. The arena expanded from 4,000-5,000 capacity to 10,500 for hockey. On the corner of Parnell and Coliseum, it is one of the landmarks in northeast Indiana.
It has hosted high school state finals, Kelly Clarkson concerts and for the last 58 years, the Komets - one of the oldest minor league hockey franchises in the country. 
Fort Wayne, in many ways, could prove to be the perfect testing ground for whether or not NCAA hockey can become more like the men's basketball tournament or the women's.
The men's tournament operates all at neutral sites, eight of them around the country for the early rounds of the tournament. Revenue is fine. Ticket sales work.
The women tried going to eight sites, too. Within a couple of years, they went back to 16 four-team, opening-round sites on host campuses because they were playing in mostly empty arenas.
Fort Wayne, with Notre Dame being the "host" of the regional despite being two hours away, signifies an attempt at a mostly neutral site - and it's something Berenson thinks could work.
"This is a good neutral site, a good hockey building," Berenson said. "Hopefully they draw well so it's something that might be sustainable."
For hockey in Indiana, Fort Wayne is it. The Komets are the most successful team in the aforementioned small IHL, have a passionate fan base and a recognizable mascot in Icy D. Eagle. They also are close enough to Michigan and Miami (Ohio) where fans of both teams can get there with relative ease.
That Berenson - one of the legends of college coaching - gives his approval to the site is critical for its success, too.
He played there. He coached there, bringing Michigan to the arena in 2005 for a 9-2 win over Notre Dame. And considering he had no problem criticizing both the arena in Grand Rapids and Ohio State's old venue, his voice should carry weight.
This is the NCAA's best chance at offering hockey neutrality in the early rounds of its national championship tournament.
"Fort Wayne could be a great site," Berenson said. "It's a good hockey town. I don't know why they haven't applied before."
Michael Rothstein covers University of Michigan sports for AnnArbor.com. He can be reached at (734) 623-2558, by e-mail at michaelrothstein@annarbor.com or follow along on Twitter @mikerothstein.