Posted on
Fri, Mar 26, 2010 : 1:03 p.m.
Forward Louie Caporusso's up-and-down season mirrors Michigan hockey team
By Michael Rothstein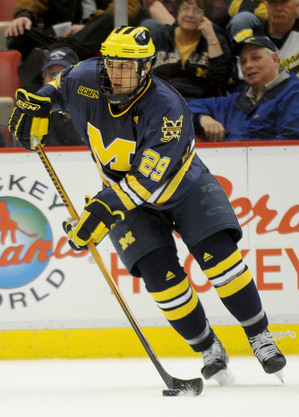 Louie Caporusso
was quieter, more serious, the million words a minute and megawatt smile usually associated with him almost gone.
For some, silence and seriousness is a sign of maturity. For Caporusso, it signaled something was wrong. Caporusso thought that as a junior on the Michigan hockey team, he was supposed to be more intent and serious.
And it just wasn't working.
The seriousness amplified the expectations he felt after being a Hobey Baker finalist his sophomore year. He started to doubt himself.
"It was a lack of confidence, I think, at the beginning of the year," Caporusso said. "I put too much pressure on myself with expectations going into the season. I felt like I had to do everything myself, and I learned quickly that I had to keep it simple."
He had one goal in the 10 games. He didn't have his first multi-goal game until Feb. 9.
Nothing felt right. Everything felt off. Part of it, he said, was due to an early-season illness. The rest came from those expectations.
It wasn't anything the coaches could see in a single game. By January, Michigan assistant Mel Pearson - the coach Caporusso calls his "rock" - called him into his office for a series of meetings.
The gist: Was Caporusso happy with his season? The answer, of course, was no. Well, how could he change it?
Pierson pointed out going back to defensive hockey, work on winning draws. Relax, and everything else would come.
"You could tell," Pearson said. "You could see some of the personality shifts in him. That went as his game went. He had to get back to being Louie Caporusso."
And Michigan, in a similar funk, needed to find a way to return to its usual self. To see Caporusso's season - one that began with great expectations and tremendous pressure only to falter and rise again - is to understand Michigan's.
Caporusso, who had both goals in Michigan's 2-1 CCHA title winning game against Northern Michigan on Saturday, was supposed to be Michigan's best player. He was part of the reason the Wolverines were ranked in the top five to start the year.
Then Caporusso loosened up. He started having random discussions about anything and everything on the bench during games. If an arena played a song, he found himself humming it. He returned to his prankster roots.
And he even has "Crosby 87" written on the back of the top taping of his backup stick.
It appeared a month or so ago, with no one taking credit or blame for how Pittsburgh Penguins star Sidney Crosby's last name and number got there. But Caporusso, a Canadian from Ontario, tries to watch Crosby as much as possible. He tries to pick up parts of Crosby's game and incorporate them into his own.
And the stick with the message on it never gets used, Caporusso said. It's a little damaged, very worn and at this point, kind of a good luck charm.
"Every time I lose a stick on the ice, they toss me this one, and I'm like, 'No, no, no, no, no, no. I don't want this one,'" Caporusso said. "Every time they throw me this one.
"I probably won't use it. It's just here."
Lately, the other sticks have been working fine.
Caporusso is a big reason Michigan is still playing hockey and will face Bemidji State in the first round of the NCAA tournament at 7:30 p.m. Saturday in Fort Wayne, Ind. In the last 10 games, the forward has nine goals and seven assists. He is Michigan's goal-scoring leader with 20.
Pearson saw the Caporusso of old in the final regular-season series against Notre Dame - the same series when goalie Shawn Hunwick started his current run.
And the Wolverines haven't lost since.
"It's kind of weird when I start to think about it," Caporusso said. "I don't know if it's because of me but if it is, I'll try my best to keep it going.
"But I think, yeah, it's weird like that."
Michael Rothstein covers University of Michigan sports for AnnArbor.com. He can be reached at (734) 623-2558, by e-mail at michaelrothstein@annarbor.com or follow along on Twitter @mikerothstein.