Posted on
Wed, Oct 3, 2012 : 6:18 p.m.
Michigan freshman goaltender Jared Rutledge out with eye injury, further complicating netminder situation
By Kyle Austin
Michigan freshman goaltender Jared Rutledge has been afflicted with a preseason eye injury, keeping him from facing pucks in recent practices and further complicating an already muddled Wolverines goaltending situation.
Wolverines coach Red Berenson said Wednesday that Rutledge will visit the eye doctor Thursday, and the team hopes he will be able to resume full practices the same day.
But the injury "definitely could" still preclude Rutledge from being the starting goaltender when Michigan opens its regular season next Thursday at home against Rochester Institute of Technology, Berenson said.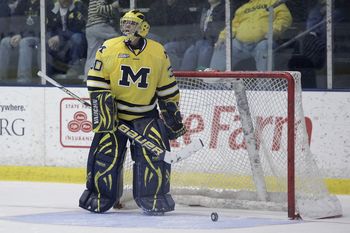 Chris Asadian | AnnArbor.com
"If he has to make any adjustments in terms of his vision, it'll take time," Berenson said. "I'm not the eye doctor but I'm just telling you we'll see how he looks."
The Wolverines will hold a brief scrimmage Sunday at Yost Ice Arena, and Berenson said he's not counting on Rutledge to be able to play in it. The team will play a home preseason game Tuesday night against the University of Windsor, and Berenson said Michigan could use multiple goaltenders in that game.
The goaltender position was already the biggest question mark in the Wolverines preseason, following the graduation of Shawn Hunwick, who started 39 of 40 games last season and was second in the CCHA with a 1.93 goals against average.
Of the four goalies currently on the roster, only Adam Janecyk, who made one start and five appearances last season and played in just one game year before, has any college hockey experience.
Berenson said a preseason eye test that every Michigan goalie undergoes revealed a "problem" that Rutledge, who wears glasses, was previously unaware of. Rutledge will be fitted with new contacts at his Thursday appointment, Berenson said.
Defenseman Mac Bennett referenced an offseason eye surgery that Rutledge underwent. Berenson would not confirm any surgical procedures.
Berenson said Sunday's scrimmage will likely feature the three other Michigan goalies -- Janecyk, freshman Steve Racine and redshirt sophomore Luke Dwyer, who played at Huron and was AnnArbor.com Player of the Year in 2010.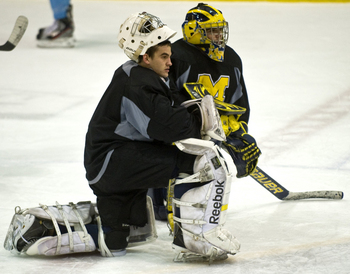 Joseph Tobianski | AnnArbor.com
Racine underwent an offseason surgery that limited his physical activity, Berenson said.
"He's just starting to get close to 100 percent, but he looks pretty good," Berenson said.
Rutledge was recruited to be the starter, but Berenson brought in 21-year-old Racine, who spent three years playing in the USHL and OJHL, to add a fourth goaltender to the roster. It's the first time in Berenson's 28 years at the helm the Wolverines have had four goalies on the roster.
"I didn't want all the pressure on a freshman incoming goalie. Shawn Hunwick last year when we started the season last year was 24 years old. This kid's coming in at 18 and I just thought we needed more depth," Berenson said. "We weren't 100 percent about our goalkeeping and we just wanted to be safe."
Michigan hopes a defensive corps that features seven returning letterman can help cushion the blow of playing an untested goalie.
The group features preseason first-team All-CCHA selection Jon Merrill, second-team selection Lee Moffie.
The only newcomer is freshman Jacob Trouba, who was picked No. 9 overall in the NHL draft and has been praised by teammates and coaches alike in the preseason.
"Our defensive corps is pretty highly touted right now," Moffie said. "I think we're going to challenge ourselves to be the best D corps in the country."
Kyle Austin covers sports for AnnArbor.com.