Posted on
Wed, Apr 6, 2011 : 2:48 p.m.
Michigan goalie Bryan Hogan's career didn't go as planned, but he's back at the Frozen Four
By Michael Rothstein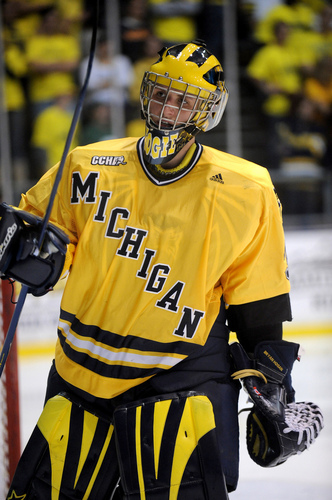 AnnArbor.com file photo
He sat in the stands at Michigan Stadium, as he had done so often during his son's four years at Michigan. The binoculars were trained on his son so he could watch every move, study what he was doing.
Jim Hogan has watched Bryan Hogan play for years. He knows his moods, when he is on and off and everything in between. What he saw on the afternoon of the Big Chill at the Big House, just after the first round of warmups, crushed him.
Bryan fell down. He got up, hunched over and skated -- pushing off of one leg -- toward the bench. Trainers came running out of the tunnel and onto the outdoor ice rink inside the stadium.
Eighty-one rows up, Jim Hogan knew what happened.
"I said to my friends around me 'He's done. He just pulled his other groin,'" Jim Hogan said. "…Probably nobody else in the place knew it but the trainers, the guys on the bench and the players there. All my friends watching on TV, people there were like 'Why isn't he playing? Why isn't he playing?'
"That's one of the longest days of your life, you know."
How do you deal with the day you see your son's college dream effectively end? How do you cope with watching a career full of promise go at least partially unfulfilled?
More importantly, what do you say to a son dealing with the same realization? How do you contain your own emotions so you can help your child go through his?
Bryan Hogan already had one of the tougher career arcs in the history of Michigan hockey. It looked like he might get one final chance, one final shot. The coaches had trusted him to start The Big Chill against Michigan State. Now this.
His second pulled groin during the season in two years. More rehab. More recovery. The realization his chance was gone.
"Obviously, that was my opportunity right there," Bryan Hogan said. "Things could have went the other way for me but that happened. I knew my position on the team when I came back because Shawn (Hunwick) was playing well and is on a run now and just had to deal with that.
"I knew, from being experienced and seeing things that went on here before, that this is how it works."
It wasn't the first time this has happened to Hogan.
In his freshman season, Hogan came to Ann Arbor looking to challenge starter Billy Sauer. Then he got mononucleosis.
His junior year, Hogan had finally won the starting position only to tear his groin in the middle of February, opening an opportunity for walk-on Shawn Hunwick. Hunwick led Michigan to a CCHA tournament championship, the NCAA tournament and almost to the Frozen Four.
Then came this year. Another groin injury and Hogan's career became the ultimate dichotomy. He never had a full season as a starter for Michigan, but he will likely leave Ann Arbor as the school's all-time leader in save percentage (.909) and goals-against average (2.18).
In his 2008-09 sophomore season Hogan had one of the best seasons ever for a Michigan goaltender. His .914 save percentage and 1.97 goals-against average were both in the top 3 all-time for a single season.
This came after a freshman year that culminated in being thrown into an unenviable situation in the Frozen Four semifinals against Notre Dame, when he saved 18 of 20 shots in relief of Sauer and kept Michigan in the game during a 5-4 overtime loss.
"He played outstanding when he went in," Michigan goaltender coach Josh Blackburn said. "It was one of the situations where we didn't put him in a good spot when he went in and he played outstanding."
That performance made Hogan look like the obvious choice to be Michigan's goaltender of the future, perhaps the Wolverines' next great goalie in the ilk of Steve Shields, Marty Turco or Al Montoya.
"When we were sophomores, he was our goalie," now-senior forward Louie Caporusso said. "He was our go-to guy."
Hogan believed it. His coaches believed it. No one could foresee what was coming next, how a career that had so much potential would end up being so unfinished. He enters the final weekend of his college career as the backup, unlikely to play when Michigan faces top-seeded North Dakota in the Frozen Four on Thursday (8:30 p.m., ESPN2).
"A rollercoaster," is how Hogan described his career. "It's been up and down, been stationary.
"It has been (stationary) for a couple months but you can describe it in so many ways. But it's definitely been a rollercoaster."
As he skated off the Yost Ice Arena ice after a recent practice, the second-to-last time he'd practice there, he remained slightly wistful.
How could he not? It had been his dream to play at Michigan and for brief, fleeting moments he had done so with great success.
His potential had always been there in a career Blackburn deemed "unlucky" more than anything.
Blackburn and Michigan coach Red Berenson stressed one thing this week: Hogan is a good goaltender. Berenson said he thinks Hogan could have a professional future in hockey. He just got caught in a tough situation.
Hogan thinks back to the high points (playing in the Frozen Four as a freshman) and the low points (all the injuries that followed). He thinks about his father and his girlfriend, Tatiana Imamura, who kept him positive throughout the past two years as he struggled to come back again and again.
Through it all, he remained focused. At times he talked his father up, explaining that sometimes this is how things work, that he'd learn from all of this one day -- whether it is playing professional hockey or just in life.
Four years ago, Hogan was the backup with plenty of time in front of him hoping for a chance. Now, Hogan is the backup again, heading back to the Frozen Four for one last shot at a championship. And he'll take that, playing or not.
"Just keep your head up, you're a good goalie and you have potential. Just because these things have happened, it's not the end of the world," Hogan said. "It's been tough this year, but I'm definitely really happy that I'm part of a good team like this and going to the Frozen Four.
"I never expected to play at Michigan, so anything I got here was something great and I cherished every opportunity that I have here. There are some sour points, obviously, but I've been focusing on the positive things."
Michael Rothstein covers Michigan sports for AnnArbor.com. He can be reached at (734) 623-2558, by e-mail at michaelrothstein@annarbor.com or follow along on Twitter @mikerothstein.