Posted on
Fri, Apr 8, 2011 : 1:08 a.m.
Michigan goalie Shawn Hunwick blanks North Dakota, puts Wolverines in national title game
By AnnArbor.com Freelance Journalist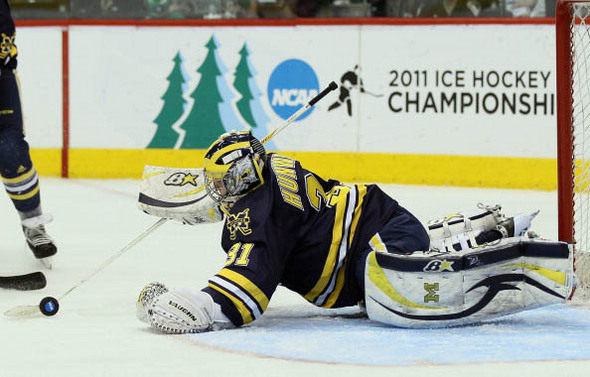 Getty Images
BY JEFF SHELMAN Special to AnnArbor.com
ST. PAUL, Minn. -- A little more than a year ago, this would have seemed totally unrealistic. Red Berenson went as far as to say there would be "no chance" of this story being reality.
Shawn Hunwick leading the Michigan hockey team to the national championship game? The guy who was the Wolverines' third goalie for nearly three years and never started a Division I game in two and a half seasons?
But that's exactly what has happened. With Hunwick stopping 40 shots Thursday night, Michigan defeated Frozen Four favorite North Dakota 2-0 and advanced to the championship game for the first time since 1998.
On Saturday, the Wolverines will face Minnesota-Duluth, a 4-3 winner over Notre Dame in the first semifinal.
That Michigan has an opportunity to win its 10th national hockey title in school history is something of an upset. This wasn't just any team that the Hunwick and the Wolverines shut down in what was essentially a home game for North Dakota at Xcel Energy Center.
MICHIGAN 2, NORTH DAKOTA 0
The Fighting Sioux's top line entered the game with 69 goals on the season. North Dakota scored a combined 12 goals in tournament victories over Rensselaer and Denver. And Dave Hakstol's team plays a relentless style of hockey, attacking the net in waves.
It didn't matter. Not with the way Hunwick played.
"I'm not surprised, this is what he's doing," Berenson said. "It's one week after another. He practiced for three years as our third goalie and never complained once. The players loved him. He got his chance to play (last season) and the players rallied around him."
Even so, Hunwick still nearly wasn't Michigan's starter.
"It looked like (Bryan) Hogan was going to take over the starting job," Berenson said. "Hogan got hurt again in the warmup of the Big Chill and Hunwick came in, got a shutout and has played every game since. Here we are."
Hunwick, a senior from Sterling Heights, was like a lot of goalies after the biggest win of his career. He was quick to praise his defense, he talked about seeing the puck well and he felt comfortable on the ice.
"When I showed up to the rink, I was feeling good," Hunwick said. "In warmups, I was seeing the puck pretty well. In the first period, if I make a few good saves, I start to gain confidence. In the second period, I was really confident and the puck started hitting me.
"It was a lot of straight-on shots, a lot of shots in the front of the net I was able to see."
Scooter Vaughan said that while the defense was solid, Hunwick deserves much credit.
"You can't praise him highly enough," said Vaughan, who clinched the victory with an empty net goal. "He was on top of his game , he was very, very, very good. They're one helluva team and without our guy back there between the pipes, we don't win that game."
With the way Hunwick was playing, Michigan didn't need that much offense. On a night when the unlikely goaltender led the Wolverines to the national title game, it was fitting that the most important goal came from an equally unlikely source.
Senior Ben Winnett entered the Frozen Four having scored only three goals on the season and none since December 30. But he picked a good time to record his first goal in 2011.
Winnett slapped the rebound of a Jon Merrill shot toward the net. While North Dakota goalie Aaron Dell made a save, the rebound bounced right back to Winnett, who spun and shot the puck into the net. The goal at 13:26 gave Michigan a 1-0 lead and turned out to be the game-winner.
"Luke Glendening drove the net hard and basically took two guys out of the play," Winnett said. "I just had a wide-open net and was able to put it in."
Despite playing with the lead for most of the game, this wasn't an easy victory. Not with the way North Dakota kept attacking.
"Our team had to play more in our own zone tonight than we have all year," Berenson said. "That was a great team in North Dakota and they proved it. They just couldn't score."
Michigan, which managed only 10 shots on goal over the final 40 minutes, packed in their defense, blocked shots and gave North Dakota very few truly great scoring chances.
When the Sioux did get chances, Hunwick was there. He made a pair of crucial saves midway through the second period. With 10 minutes left in the third period, Hunwick stopped North Dakota's Matt Frattin on a good chance.
But no saves were as big as the two Hunwick made on Evan Trupp in the final minute. Trupp got two good shots on net after the Sioux pulled Dell for an extra skater.
North Dakota had one last chance, but Danny Kristo's shot was blocked before it reached Hunwick. That block from Carl Hagelin allowed the Wolverines to advance the puck up ice for the empty-net clincher.
And, now, the Wolverines will play for a national championship.
"We've had CCHA regular season (championships) and postseasons and we're not happy with that," Hunwick said. "We want to win a national championship."