Posted on
Fri, Mar 26, 2010 : 11:59 a.m.
Michigan goalie Shawn Hunwick stays out of sight, focused on job at hand
By Jeff Arnold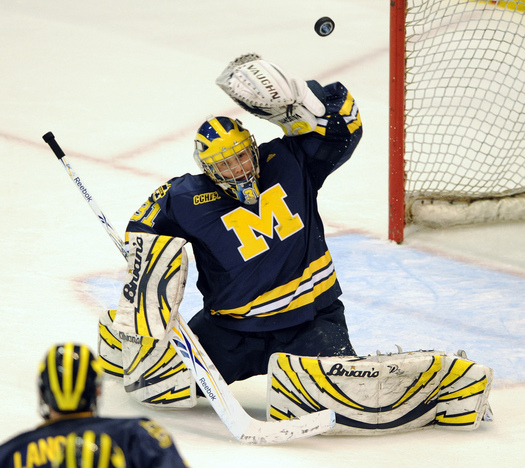 For the few moments the blinding television lights remained locked in on him, Shawn Hunwick played it cool.
The Michigan junior walk-on goalie sat surrounded by his teammates, donning CCHA championship caps, doing their best to explain how everything had come together.
Yet, for all of the attention cast onto Hunwick, he deflected talk of being the hero and even the CCHA Tournament's Most Valuable Player to the side, much like myriad shots he pushed to the side to help the Wolverines reach their 20th straight NCAA tournament berth.
Moments earlier, Hunwick - almost embarrassed by the attention - glided to accept the MVP trophy as his teammates and coaches cheered the 5-foot-7 back-up who had skated into the hearts of the Michigan hockey faithful.
The moment hadn't completely sunk in for Hunwick, who admitted getting choked up as the final seconds of Michigan's 2-1 title-clinching victory over Northern Michigan ticked off the Joe Louis Arena clock.
As time expired, the Michigan students located high above the ice began to chant Hunwick's name. But as quickly as Hunwick was thrown into the role of leading man, he quickly withdrew, content to be just another contributing piece of the championship puzzle.
"I think it takes away from the team," Hunwick said in Michigan's post-game press conference. "The guys played tremendous. I don't even know if I deserve the MVP. I don't know if I even deserved to be a star of the game.
"Six weeks ago, if you said I would be sitting here, I'd say you were crazy. But you just have to keep going."
Having completed the march to the tournament, the spotlight only gets brighter. Michigan faces Bemidji State (7:30 p.m., Comcast Channel 900) in Saturday's NCAA regional semifinal in Fort Wayne, Ind.
With the exception of a day of interviews Monday, Hunwick has been off-limits to reporters all week. The Wolverines traveled to Fort Wayne on Thursday night and will skate at the Allen County War Memorial Coliseum later this afternoon before meeting with reporters.
Hunwick will not be among those brought to discuss Michigan's chances of advancing to its 24th Frozen Four appearance.
Michigan coach Red Berenson said earlier this week he will keep Hunwick out of the fray, allowing him to focus on Saturday. Berenson, realizing that a Frozen Four berth awaits the winner of this weekend's regional championship, said he doesn't expect his goalie's mentality to change.
"There will be fewer people in Fort Wayne than Joe Louis, so if it's the size of the rink or the importance of the game, we've been playing desperation hockey now for the past few weeks," Berenson said Wednesday. "So I don't think it will be any different."
Over the past few weeks, Berenson has become Hunwick's No. 1 supporter. After Hunwick stepped in for starter Bryan Hogan against Notre Dame Feb. 25, Berenson remained uncertain the career back-up was prepared to face the stresses of being a starting goalie.
Since then, Berenson has watched Hunwick win six of seven starts, all while trying to keep the focus on the team - not himself. It's an attitude Berenson expects from his players regardless of how long they've been in his starting lineup.
"He's been here three years - he's not a dumb kid," Berenson said. "He didn't come to Michigan for his goalkeeping ability. He came here for a multitude of reasons and all along, he's not projecting himself as an NHL player. He's here for the right reasons.
"That just tells you something about the character of the kid, and he's honest about it. He knows he wouldn't be doing as well if the team wasn't, but deep down, he's got to be proud of himself. He's showing everyone he can play here."
Jeff Arnold covers Michigan hockey for AnnArbor.com. He can be reached at jeffarnold@annarbor.com or 734-623-2554. Follow him at Twitter @jeffreyparnold.