Posted on
Sat, May 14, 2011 : 5:59 a.m.
Michigan grad Julie Foucher feeds competitive drive in elite CrossFit events
By Pete Cunningham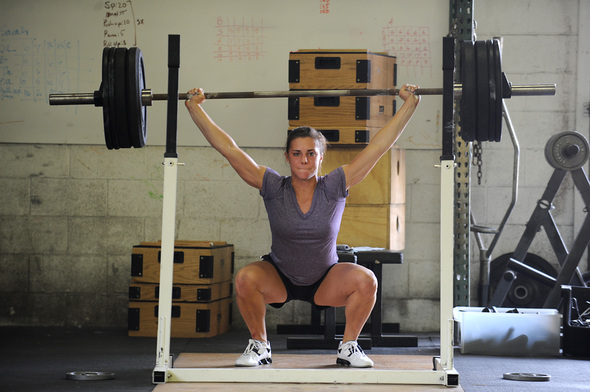 Melanie Maxwell | AnnArbor.com
In the far corner of Ann Arbor's Hyperfit USA, 5-foot-4 inch, 125-pound Julie Foucher has 165 pounds lifted high above her head.
With her feet shoulder width apart, weight centered on her heels, and back perfectly straight, Foucher squats until her butt nearly hits the ground. Then she does it again…and again…and again.
Foucher is training for the 2011 Crossfit Games and, believe it or not, squatting with more than 40 pounds her bodyweight held above her head, is the easy part of her workout.
Prior to the squats, Foucher performed a torturous concoction of throwing, catching and squatting a 20-pound medicine ball with pull-ups mixed between. Afterward, she'll have an hour-long Olympic style weight-lifting session.
Such is the tortured life of a CrossFit athlete.
In CrossFit competitions, athletes compete in a series of workouts that combine aspects of weightlifting, cardiovascular training, and gymnastics among other things. Athletes don't learn what the events will be until the day of competition, so no competition is ever the same.
When Foucher first began doing crossfit -- much like most of the patrons at Hyperfit -- she wasn't necessarily looking to compete.
"I'd done gymnastics in high school, and I was kind of looking for something a little more structured to do, and so it sounded perfect for me to try," Foucher said.
Foucher enjoyed great success in the 2010 CrossFit Games. Despite it being just her first year competing, Foucher finished in fifth place at the worldwide competition and earned sponsorship from Reebok.
Foucher -- who graduated from the University of Michigan this year -- was a state champion gymnast in the all-around as a senior at Northville High School in 2007, but struggled to motivate herself into just going to the gym and having a regular workout. She came to Hyperfit USA with her boyfriend and fell in love with the intensive atmosphere.
"I've seen some people with some awesome potential come in, they just don't have the intestinal fortitude to stay with it," said Doug Chapman, Hyperfit USA owner and the twisted mind behind the workouts that go on inside of his gym's walls.
Chapman is a former college wrestler and coach. He was in the Navy and looks and acts the part: big, muscular, and comfortable barking orders. But he's also quick to crack a joke and never far from a smile.
Chapman said Foucher's athleticism was a definite bonus in training her, but just as valuable was her willingness to be coached.
"If you're not willing to assume the role of 'this is coach, this is athlete, this is coach, this is athlete, listen or go away,' then I can't help you," Chapman said. "Julie is such an awesome, intelligent, driven human being. She was just like focused on getting all the stuff I assign her done."
Foucher trains six days a week in preparation for upcoming regional competitions, in which she competes as an individual as well as for the six-person (three-man, three-woman) Hyperfit USA team to qualify for the Crossfit Games in July.
She'll have to move her training to Ohio next year. Foucher, 22, will be attending medical school at the Cleveland Clinic starting this fall.
"I just really want to keep trying to compete as long as I can, at least for the next year or two in med school," Foucher said. "I know it's going to be hard after that."
Foucher and the Hyperfit USA team will compete this weekend at the Michigan Open on Saturday, hosted at Hyperfit USA from 7 a.m.-7 p.m.
Pete Cunningham covers sports for AnnArbor.com. He can be reached at petercunningham@annarbor.com or by phone at 734-623-2561. Follow him on Twitter @petcunningham.