Posted on
Thu, Nov 19, 2009 : 8 p.m.
Michigan guard Manny Harris heard congratulations all week about his triple-double
By Michael Rothstein
ANN ARBOR - Manny Harris would have people come up to him throughout the week, offering a pat on the back, a bit of congratulations and a few kind words. After his triple-double, the second in Michigan history and first in 22 years, he expected it.

"A lot of people were telling me it was awesome," Harris said. "Things like that. Kind of still a little bit regular, people just saying it was awesome, good job."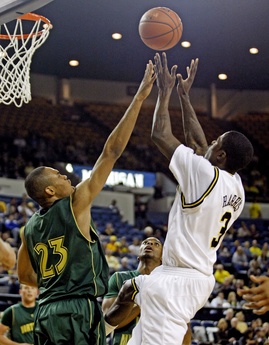 AP photo
The junior guard, though, isn't making a big deal of the 18-point, 13-rebound, 10-assist night. His goal, after all, isn't scoring a triple-double. The milestone is something, instead, that'll be a bigger deal as the years pass.
"A while later from now, I'll probably appreciate it more," Harris said. "Not saying I don't appreciate it but it's just the beginning of the season.

"I can't be so happy off that. I've got a lot more games to go."

The last assist, a Harris pass to freshman guard Matt Vogrich, was kind of a set up. In the huddle, Michigan assistant coach Mike Jackson told Vogrich and Stu Douglass that Harris needed one more assist to notch the triple-double.

So he told them to shoot. Then Vogrich started talking to Harris at the free-throw line. He said "I'll hit it if you find me. I'm shooting well right now."

Harris did. Vogrich made the shot - one of 5 three-pointers he made Saturday. Triple-double achieved.

Michigan coach John Beilein wasn't stunned Harris reached the mark. The key to triple-doubles, usually, relies on the player's teammates instead of the guy himself.
"You can't manufacture in assists," Beilein said. "They still have to make shots and he might have three or four of those assists to Vogrich and if he has a typical freshman (game) and goes 2-for-5, there's no triple.

"So that's where it really fell together."
Manny's Hammy's OK, But He's Bruised

Clearly, Harris' sore hamstrings have been healed based off Saturday's performance. But he was bumped in practice Wednesday and has a bruise. 
Beilein, though, wasn't concerned and said it wasn't Harris' hamstrings but a bruise on his leg.
"He's a competitor," Beilein said. "But he's got to get in there, he's going to get banged around."
Cronin Suffers Setback
While Harris is healthy, redshirt freshman center Ben Cronin continues to struggle with his hip.
Beilein said they've had to re-examine Cronin's health - he also injured his right hand and didn't catch passes in practice Wednesday - and now seems to be setting a goal of the Big Ten season for Cronin to be healthy enough to become part of Michigan's rotation.

Beilein characterized it as Cronin being "an inch" away in both his bounce and his speed.
"We have to step back a little bit," Beilein said. "And do more rehab with him, more rehab, more rehab with his hip because he's just bouncier than you're seeing right now. We have to get him to play a little bigger."

Beilein said the 7-footer is still limping and that he needs to find balance before he is ready to log major minutes.
Morgan Cleared

Freshman forward Jordan Morgan, who has been awaiting full-court clearance for almost a month, has finally been cleared, Beilein said.
Beilein expected Morgan to go full-court full-speed for the first time Thursday.
Don't expect to see him this season, though. Morgan has long been tabbed as a likely redshirt.
This and that
Michigan will have a Thanksgiving meal after its Thursday game at the Old Spice Classic, although if players have family in town they'll be allowed to go off with them. … By bringing two canned foods to Friday's game and entering in Gate A, fans will be able to attend for $1. … Houston Baptist is horrible from beyond the three-point line, shooting 4 of 47 for the season, a .085 clip. … Beilein said Michigan was not approached to be part of this year's 24-hour basketball marathon on ESPN, and that if he were approached he'd like to play in the 4 p.m., 6 p.m. or 8 p.m. games. The time of the game, he said, would be critical as to whether Michigan would entertain playing in the marathon in the future.