Posted on
Thu, Jun 23, 2011 : 5:59 a.m.
Incoming Michigan freshman John Gibson expected to be top goalie taken in 2011 NHL Draft
By Pete Cunningham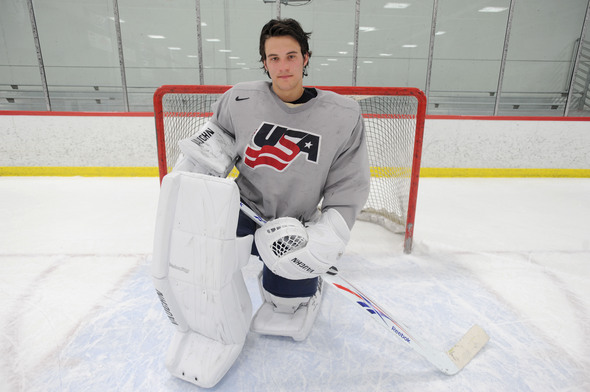 Angela J. Cesere | AnnArbor.com
The 10 winningest goalies in NHL history are Canadian, so there's been no debate over which country produces the best goalies, only which part of the Great White North - Ontario, Quebec or the western provinces - they'll come from.
Now the balance of power is shifting slightly, and University of Michigan commit and Pioneer High School graduate John Gibson is one reason why.
The United States National Team Development Program U-18 goalie is likely to be selected early Friday in the NHL Draft, marking the second consecutive year an American-born player is the first goalie off the boards.
If Gibson is the first goalie taken when the draft starts at the Xcel Energy Center in St. Paul, Minn., it would also be the second year in a row that the U.S. NTDP U-18 team - which is run out of the Ann Arbor Ice Cube - produced the top goalie in the draft.
"Our goal is to become known as the best developing goal tending country in the world," said U.S. NTDP goalie coach Joe Exter, who has been with the program for four years. "(Gibson) is a big kid with size and power and has good athletic ability…He's very smart, which allows him to use all of his strengths to his advantage."
A Pittsburgh native, Gibson relocated to Ann Arbor, moved in with a host family and enrolled at Pioneer High School prior to his junior year in order to train with the U-17 squad. At 6 feet, 3 inches and 205 pounds and extremely quick and athletic, Gibson's physical gifts are obvious. U.S. NTDP head coach Ron Rolston said it is Gibson mental makeup, however, that makes him the complete package.
Gibson seems to be at his best when the limelight is on. He didn't have a winning record in 21 games played in the 2009-10 season, but led the U-17 squad to the World Hockey Challenge championship. Gibson won both starts when called up to the U-18 squad that year and this past year led Team USA to the 2011 International Ice Hockey Federation World Under-18 Championship.
He was named the tournament's top goalie after posting a 6-0 record, a 2.34 goals-against average and 92.6 saves percentage.
"I think over the course of two years he developed a lot in his mental game in terms of being able to perform in a big-win situation," Rolston said. "He was put in a lot of situations to help him develop in that area."
Earlier this month, Gibson attended the NHL Draft Combine in Toronto and was put through a battery of physical and mental tests and interviewed with most of the 30 NHL teams. Following the combine, Gibson said he didn't have much of a gauge as to which teams are more interested in him.
"(The interviews) all went pretty well. They all kind of ask the same questions. They just want to get to know you and get to know your personality," Gibson said. "Whoever picks me, I'll be excited."
Unlike the NBA or NFL, most NHL draft picks don't immediately join the pro ranks, though last year's top American goalie selection Jack Campbell's decision to expedite his track to the NHL is what opened the door for Gibson at Michigan.
Campbell verbally committed to the Wolverines, but instead opted to play with the Windsor Spitfires of the Ontario Hockey League with the hopes of speeding up his track to the NHL. Campbell's decision along with a coaching change at Ohio State prior to the 2010-11 season opened the door for Gibson to join the Wolverines.
When Michigan coach Red Berenson first saw Gibson play in person at the Cube, he wasn't overly impressed, but when he saw one of his games on television, he asked one of his assistant coaches "What about this Gibson kid?"
Upon learning that Gibson had verbally committed to Ohio State, Berenson said he didn't give Gibson too much thought.
"It was too bad, but that was the way it was, so we moved on," Berenson recalled.
But when Berenson learned Gibson de-committed from Ohio State after the Buckeyes changed coaches, he reached out.
"We talked to him, told him there'd be an opportunity here," Berenson said. "He wasn't in a rush to make a decision. He had a decision to make between other schools and also major juniors. I don't think he made his decision until after Christmas or thereabouts so it's not like the traditional recruit that's been verbally committed for a couple of years or at least a year."
No matter when his name is called on Friday (or Saturday), Gibson said he expects to have his work cut out for him when he joins the Wolverines.
The temporary ego boost of the draft will be followed by the reality of being on the low-end of the totem pole with the Wolverines. Michigan is coming off a national runner-up finish in large part due to the spectacular play of former walk-on goalie Shawn Hunwick, who will be a fifth year senior next season.
"He's going to be put in situations where, as good as he thinks he is, he's going to be playing against 24-year-old men, so talent's just not enough for these guys to get by and they know," Rolston said. "It's his responsibility now to make sure that he's working and making sure that he's fine tuning his talent every day."
Gibson said he looks forward to learning from and competing with Hunwick, and Berenson looks forward to the dynamic the two will present for the team.
"I want to see them both do well. We brought John Gibson here to be a starting goalie and he will be, it's just a matter of when," Berenson said. "It's an ideal situation for Gibson to have someone like Hunwick to talk to, room with on the road get to know him. Shawn's not worried about losing his job…he'll groom John to take over the program, part of that grooming is competition."
Another top prospect

Another incoming freshman expected to be drafted relatively high is incoming freshman Brandon Serville. A right-handed defenseman, Serville is the 104th-ranked North American skater in the upcoming draft.
"He should be in our top six defense," Berenson said of Serville, "He's coming off a good year with his team, I think he's going to add to our team…I expect on defense (Serville's) the most ready to come in and play in our top six."
Unfinished race

Berenson doesn't put much stock in the draft, likening it to taking a picture at the beginning of a race and trying to guess who will win.
"I don't care where a kid gets drafted. It doesn't matter to me what other people think. It shouldn't matter to the players either, except I know they've got egos," Berenson said. "Bottom line, it doesn't matter. It's the player that you become.
"And so my philosophy has been, if you're drafted in the first round then you spend the rest of your career proving why you were a first-rounder and justifying it. If you're not drafted in the first round, you spend most of your career trying to prove why you should have been a first-rounder. So either way, you've got something to prove."
Pete Cunningham covers sports for AnnArbor.com. He can be reached at petercunningham@annarbor.com or by phone at 734-623-2561. Follow him on Twitter @petcunningham.