Posted on
Fri, Mar 25, 2011 : 11:19 p.m.
Michigan hockey advances to regional final with 3-2 overtime win over Nebraska-Omaha
By AnnArbor.com Staff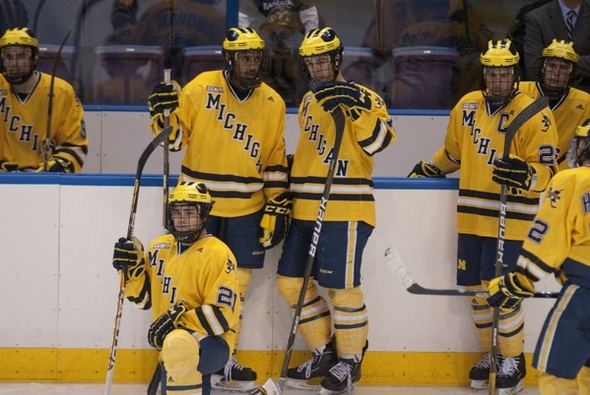 Tim Vizer | Icon SMI
The Michigan hockey team sat on the ice at the Scottrade Center in St. Louis for nearly 10 minutes awaiting the referee's decision.
Though it appeared Kevin Lynch had given the Wolverines the game-winner in overtime of their NCAA tournament game against Nebraska-Omaha Friday night, there was no definitive camera angle that could prove it.
Finally, official Chip McDonald skated to center ice and pointed at the face-off circle, signaling a Michigan goal and giving the Wolverines a 3-2 victory.
Lynch said he became more confident the goal would count as the wait grew longer.
"I wasn't sure if it went in or not. I know it went in off of a defenseman. I wasn't sure if it crossed the line," Lynch said in a post-game press conference. "I figured the longer they reviewed the better it was for us. Coach just had us stay focused and keep our heads in the game while we had to wait. I was pretty confident that it was going to go our way."
A replay of the goal was never shown at the arena, but the Omaha World-Herald reports that Nebraska-Omaha was told that a single high-definition replay showed the puck crossing the line behind goalie John Faulkner.
Lynch's goal 2:35 into overtime, a rebound after Greg Pateryn's shot from the point, capped Michigan's eighth come-from-behind win of the season and the third time they've erased a two-goal deficit.
The Wolverines (27-10-4) play Colorado College, an 8-4 winner over top seed Boston College Friday night, in the West Regional final on Saturday (9 p.m., ESPNU)
Nebraska-Omaha (21-16-2) scored a short-handed, breakaway goal on its first shot of the night. Just 95 seconds into the first period, Rich Purslow went five-hole on Shawn Hunwick to give the Mavericks an early 1-0 lead.
Alex Hudson added a goal at the 8:18 mark and Michigan went into the first intermission down 2-0.
The Wolverines caught a break early in the second when Nebraska-Omaha was whistled for boarding barely a minute in. Louie Caporusso netted his 11th goal of the season on the ensuing power play.
"When we were down 2-0, we didn't get down on ourselves. We had the patience and persistence to keep ourselves in this game. We've been here before," Caporusso said.
"I guess when you're tested as many times as we are, you learn from game to game that we have confidence in ourselves game and when were down 2-0, I wasn't concerned about our game."
Lynch tied the game at 2-2 at the 8:36 mark with a one-timer from the left side off of a pass from Chad Langlais. Langlais dug a dump pass out of the corner, then weaved backwards through the Maverick defense before slotting the puck to Lynch.
After a scoreless third period, Michigan successfully killed a boarding penalty on Matt Rust that it was issued just 17 seconds into overtime.
The game winner was the 11th goal of the season for Lynch, who had a goal disallowed in Michigan 3-2 double overtime loss to Miami in last year's regional final.
After allowing goals on two of the first four shots he faced, Hunwick stopped the next 25 he faced for his 20th win of the season.
"The first two goals caught me by surprise. It wasn't because of effort," Hunwick said. "The competition they threw at us was fast and got caught on the back of my skates. I trusted my guys to bring us back. I never lost confidence in them. I knew it was going to take more than two goals to get by me, but I wasn't going to let it happen."
Next up is a Colorado College (23-18-3) team that eliminated defending national champion Boston College behind two goals and two assists from freshman Jaden Schwartz.