Posted on
Fri, Mar 4, 2011 : 10:03 a.m.
Michigan hockey alternate captain Louie Caporusso hopes for speedy return, CCHA hardware arrives and more notes
By Jeff Arnold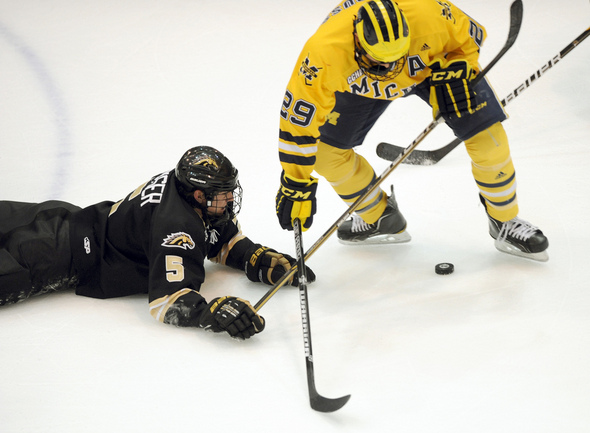 Lon Horwedel | AnnArbor.com
Louie Caporusso has experienced knee-to-knee collisions before, some with more serious consequences than others.
But as the Michigan hockey team's senior alternate captain lay on the ice last Friday at Northern Michigan, he knew this time it was serious.
An MRI on Sunday confirmed Caporusso's fears. The injury carries a week-to-week recovery rather than day-to-day he was hoping for, forcing Caporusso to accept the fact he likely won't be ready when the No. 5-ranked Wolverines begin defense of their CCHA Tournament crown next weekend at Yost Ice Arena.
Michigan will host a best-of-three quarterfinal series against the lowest remaining seed after this weekend's first round. While Caporusso is anxious to return as soon as possible, he realizes he can't afford to rush back before his knee is ready.
"Obviously, you want to play, especially when it's your last year," Caporusso said Thursday night. "You want to be part of the playoff run and I will be able to do that. I'm not looking down on that. I know I will be able to play, at the latest, in the NCAA regionals.
"But I'm just trying to stay positive."
Caporusso, whose goal production has been half of what it was in each of the past two seasons, spent this week rehabbing while his teammates began preparations for the playoffs.
He sustained a similar injury to his left knee a month ago, but that proved to be more of a minor setback. Having gone through this before, Caporusso knows what kind of work he will need to put in to speed up the healing process.
He said he's not overly concerned with his long-term status, but said he has to wait for clearance from Michigan's training staff to ensure he will be 100 percent when he returns.
"The less amount of games I can miss the better," Caporusso said. "But I've got to be in good shape when I come back. With this knee injury, you're not able to do much cardio, you're not able to skate and so it's the type of injury you want to make sure you're at game speed when you're able to come back."
Senior captain Carl Hagelin will move to center in Caporusso's absence with David Wohlberg and Chris Brown filling out a line that has been productive of late. Caporusso has also been valuable on Michigan's special teams units, giving his teammates incentive to fill the void left by Caporusso's injury.
"It's a big hit when Louie's not in the line-up," Brown said. "His skill and patience with the puck and his passing ability and play-making ability is off the charts. But this gives the rest of the team an opportunity to step up and try to add to the offensive ability we're lacking with Louie out."
Hardware delivery The Wolverines received their regular-season CCHA trophy Thursday after their morning skate. CCHA Commissioner Tom Anastos hand-delivered the hardware, which Michigan hasn't had in its possession since the 2007-08 season.
The Wolverines captured their 11th regular-season title by winning its sixth straight game -- a 5-0 shutout of Northern Michigan. Although they got a little help from Western Michigan, which knocked off first-place Notre Dame on the final day of the regular-season, Michigan coach Red Berenson said he liked the way his team earned its latest league championship.
"It hasn't just been about first place with our team," Berenson said. "It was about playing better defensively and on special teams - all the little things it takes for a team and player to play well.
"We talked three weeks ago that we were going to have to win all our games to have a chance. I can't tell you I liked the way we won some of those games, but we got better and we did some good things."
While Michigan is happy to have won the regular-season title, it just marks one accomplishment in a season that Berenson's players hope ends with the program's 10th national championship.
"It's always great when you're able to win a trophy," Caporusso said. "The guys are pretty proud of that, but one thing I like about our team is that I don't think we're content at all."
Who's hungry? Yost Ice Arena will introduce "All You Can Eat" seats when the Wolverines host a CCHA quarterfinal series beginning March 11. Food and beverages will be served from a private concession stand located near the seating area.
The seats are located in Box H, situated in the southwest corner between sections 1 and 22. The food offerings will include hot dogs, bratwurst, hot pretzels, popcorn and various soft drinks and hot beverages. Food service will begin one hour before the 7:35 p.m. puck drop and continue through the start of the third period.
The seats, which are being sold for $38, will be available for each game. To order, call the Michigan marketing office at 734-615-2025.
Jeff Arnold covers Michigan hockey for AnnArbor.com and can be reached at (734) 623-2554 or by e-mail at jeffarnold@annarbor.com. Follow him on Twitter @jeffreyparnold.