Posted on
Sat, Mar 23, 2013 : 7:13 p.m.
Michigan hockey blasts Miami 6-2 to advance to CCHA title game, one win away from 23rd straight NCAA berth
By Kyle Austin
Daniel Brenner | AnnArbor.com
Updated at 8:15 p.m.
DETROIT -- The final score will forever read Michigan 6, Miami 2. But if not for a fortunate bounce that started the Wolverines' run, the game could have easily gone the other way.
Twenty-four minutes into an evenly played scoreless game, with the Wolverines on the penalty kill, a blocked shot came toward Michigan's Kevin Lynch, who punched it behind the Miami defense and created a 2-on-1 opportunity.
That opportunity ended with Lynch feeding a cross-ice pass to Andrew Copp, who got Michigan on the board.
"Whether we were lucky or good to get that goal, that was a huge goal," Michigan coach Red Berenson said. "When you're playing a team like that, you'd hate to play from behind."
That goal was the first of four in an eight-minute span, leading Michigan to a win over top seed Miami, 6-2, Saturday afternoon at Joe Louis Arena to advance to the CCHA tournament final.
The Wolverines will now take on Notre Dame at 2:05 p.m. Sunday (Fox Sports Detroit) in the league championship game.
On the line will be Michigan's record 22-year NCAA tournament streak. A win gives Michigan (18-18-3) the league's automatic bid to the tournament. A loss would give them a sub-.500 record and make them ineligible for consideration.
"The weekend is not over, our team knows that," Berenson said, "and they put it on the line tonight but they know that tomorrow's game is going to be tough."
More coverage: Photo Gallery | Boxscore
A half an hour after the game, Michigan didn't look like a team that had just dominated the league's regular season champion on the scoresheet. It didn't talk like one, either.
"I thought they outchanced us, outshot us and were the better team for the most part," Berenson said.
But there was one key difference.
"The puck was going in for us," he said.
A tightly played first-period saw each team take eight shots. A night after being named the CCHA's top offensive defenseman, Jacob Trouba displayed some defensive prowess, diving into the net to save a puck that trickled past Wolverines goaltender Steve Racine to keep the first period scoreless.
After Michigan got on the board with the shorthanded goal early in the second period, the floodgates were open. Michigan's first two goals came off the stick of Copp, marking the freshman Skyline High School graduate's second two-goal game of the postseason.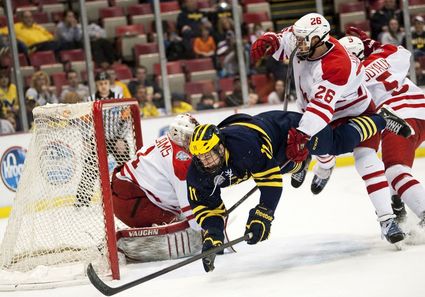 Daniel Brenner | AnnArbor.com
It marked just the second shorthanded goal Miami has given up this season, and came on the Wolverines' 23rd consecutive successful penalty kill.
"It's been good to get the first goal," Michigan captain A.J. Treais said. "In the first half of the season, that wasn't happening."
Copp was in the right place again six minutes later, when he took a cross-ice pass from Trouba and finished off a back-door chance.
Michigan kept at it, and with 9:10 left in the second Luke Moffatt sent home a one-time slapshot off a pass from Treais.
Forty-three seconds later, Treais got a goal of his own on a cross-ice pass from Guptill. The goal snapped a 14-game goal-less streak for the Wolverines' captain.
The Wolverines finished the second period with four goals on 10 shots, while giving up 15 shots to Miami. All four Michigan goals on the stretch were set up directly off passes.
"It was just burying our chances, and we've been able to do that recently, out of desperation or whatever it's been," Copp said. "It's been a nice turnaround for us."
After Miami's Sean Kuraly scored a 4-on-4 goal with two minutes left in the second period, Guptill took a pass from Lynch and pushed the Wolverines' lead back to four 45 seconds into the third.
Guptill scored again by putting a rebound home with 12:14 left into the period to put Michigan up 6-2.
Racine gave up another goal when Miami scored with 14:55 left in the game, but otherwise shut the door by giving up two or fewer goals for the sixth time in seven games. He finished the game with 33 saves.
The Wolverines will now carry a nine-game win streak into the league title game. After a 10-18-2 start to the season, Michigan swept its final two regular-season series and first two playoff series to carry an eight-game win streak into Joe Louis Arena.
The Wolverines are going for their 10th CCHA tournament crown in the league's final season.
Michigan and Notre Dame played four times in the regular season, with the Irish taking each game by multiple goals. The last two came Feb. 8-9 in South Bend, the last series before Michigan started its winning streak.
But according to Treais, Michigan is a different team now.
"You can throw that record out the door, and tomorrow it's a 0-0 series," Treais said.
Kyle Austin covers sports for AnnArbor.com. He can be reached at kyleaustin@annarbor.com or 734-623-2535. Follow him on Twitter @KAustin_AA.