Michigan hockey blows two-goal third period lead in season-opening loss to RIT
Posted on Thu, Oct 11, 2012 : 11:17 p.m.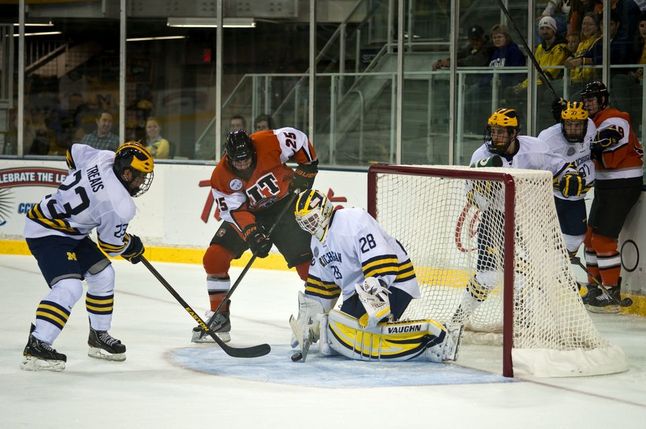 Joseph Tobianski | AnnArbor.com

One game in, and the preseason scouting report on this Michigan hockey team -- strong veteran defense, shaky goal-scoring -- is out the window.

Michigan blew a two-goal lead with 10 minutes left in regulation and fell in overtime, 5-4 to Rochester Institute of Technology, in its season-opener Thursday night at Yost Ice Arena.

The final goal came from a rebound that came to rest under freshman goaltender Jared Rutledge, and was poked home by RIT's Adam Hartley.

It was the end of a night of defensive breakdowns and goaltending miscues.

"We're disappointed in our overall defensive game, starting with our goalkeeping, our defense and our D-zone play," Michigan coach Red Berenson said. "You can't give up unearned goals, and that's what we did.

"They all looked pretty soft to me."

It was a forgettable debut for Rutledge, the freshman brought in to start immediately. After RIT opened scoring late in the first on a puck that came from behind the net and went off his skate, Rutledge allowed three goals on eight shots in the third period and a goal on the first shot of overtime.

"The kid made some pretty good saves too, but it was a tough night to be a goalie in our end," Berenson said. "We've got to be better than that."

Rutledge missed two weeks of the preseason with an eye ailment and returned to take shots last Thursday. After Berenson originally said his availability for the opener was in doubt, the freshman got the nod Thursday.

Berenson said he will consider starting freshman backup Steve Racine when the two teams face off again Friday night at Yost.

Defense is expected to be the strength of this Michigan team, with seven returning players and the addition of heralded freshman Jacob Trouba.

But that group took the blame for the opening loss, with turnovers, failed clears and shots allowed right in front of the net.

"The defensive zone was definitely our burden tonight," forward Derek DeBlois said. "We can't give those shots up to anybody, and they buried them whenever they were in front."

It didn't help that the Wolverines played without defenseman Jon Merrill, who will be out for a significant part of the season after suffering a cracked vertebrae in Tuesday's exhibition game.

"He's arguably our best defenseman and certainly he's a big part of our D-core," Berenson said.

The final 20 minutes ruined a strong first period, in which Michigan led by three 18 minutes in. Trouba opened his Michigan career with a highlight-reel goal, charging in from center ice and stuffing in a wraparound shot while falling down.

DeBlois also scored on a cross-ice pass from Lindsay Sparks, and Mac Bennett scored on a shot from the point.

But the Michigan offense mostly stalled from there, recording one goal on 29 shots in the second and third. Michigan outshot RIT, 44-26, with Tigers goaltender Josh Watson recording 40 saves.

RIT climbed back into the game after a scoreless second period, starting in the third with Chris Saracino scoring on a one-timer from the faceoff circle to cut the deficit to one.

Michigan's Travis Lynch -- seconds after laying a devastating hit -- scored what would be Michigan's final goal with 14 minutes left. The Wolverines missed on several scoring chances in the second and third, most notably a strong rush to the net by Lynch with three minutes left.

From there, RIT tied the game on another shot from the faceoff circle and a backhand on a loose puck in front with 4:40 remaining in regulation.

Minutes later, fans were streaming from the new metal bleachers in stunned silence.

"It's disappointing to have your first home game, everyone's excited for the game, and to have an outcome like that," Berenson said.