Posted on
Fri, Jun 11, 2010 : 2:17 p.m.
Michigan hockey coach Red Berenson agrees to three-year contract extension
By Jeff Arnold
The question was one that came up each year. After a while, Red Berenson grew tired of trying to answer it.
As much as he tried to ignore talk when he'd retire, the long-time Michigan hockey coach knew he would eventually have to offer more of a permanent answer.
That came on Friday when athletic director Dave Brandon announced that Berenson agreed on a three-year contract extension Thursday. Berenson, who will turn 71 later this year, had been on a one-year rolling contract.
The new deal will keep Berenson behind the Michigan bench through the 2012-13 season.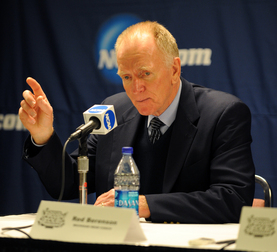 Lon Horwedel | AnnArbor.com
"I think it's important I'm in - I'm all in and not just here for the year," Berenson said Friday. "I think it's important we get that message out."
"Obviously, I'm part of the program, and it's important they know I'm in. We ask our players to be in with both feet in the door and I think they should know the coach is in"
Berenson is entering his 27th year at the helm of Michigan's program, which has made an NCAA-record 20 consecutive tournament appearances. Berenson has a winning percentage of .669 (699-328-69). He currently ranks sixth in all-time victories.
Under Berenson, Michigan has captured 10 regular-season CCHA regular-season championships and nine CCHA Tournament titles as well as two national titles. Michigan came one win short of reaching the Frozen Four this past season following a controversial double-overtime loss to Miami in the NCAA Midwest regional championship game.
Berenson said the way the season ended only fueled his return, but never struggled with the decision whether to extend his tenure beyond this season.
"I think this is the right thing for the program," Berenson said. "I feel good, I feel inspired by our players and I've always felt loyal to our team. I wanted to get through next year and I like our senior class and I felt like next year's team could have been the last team I coached but with this new decision, I feel good about our decision."
Brandon said Friday that he had been mulling over the idea of a multi-year deal since he was hired. But given the passion he saw from Berenson during Michigan's heroic run to its 20th straight NCAA tournament appearance, Brandon knew he wanted to try and lock a coach who he says has reached iconic status up for as long as he could.
"I feel this is a hugely important announcement," Brandon said. "There aren't a lot of Red Berensons in the world - past, present or future - and to have the ability to keep him here and have him continue his great work and leadership on behalf of Michigan hockey is just an incredible thing."
Berenson has a solid nucleus of players returning including forwards Louie Caporusso, Carl Hagelin and Matt Rust, all of whom announced they were returning for their senior seasons before this week's contract extension talks. Berenson said after last year's run, he likes the direction his program is moving in - a factor he said will ultimately play into when he decides to retire.
"As long as we're doing well - I don't want to coach a team that's going in the wrong direction and maybe I'm in the way," Berenson said. "I didn't feel like I was in the way, I think we're all in sync this year and if I can continue that, then hopefully, I can fulfill this contract."
Berenson told his players of his decision Thursday. Most anticipated he would return next season, but didn't know beyond that. His three-year deal now provides some long-term stability - not only to his current players, but to recruits who may base their college choice on whether he would be coaching.
His current players are also excited to see him return.
"He's got a competitive streak and a passion like I've never seen before," Caporusso said Friday. "He's like this 21-year-old kid who is lacing his skates up for the first time. He's a special person."
Jeff Arnold covers Michigan hockey for AnnArbor.com. He can be reached at jeffarnold@annarbor.com or 734-623-2554. Follow him at Twitter @jeffreyparnold.