Posted on
Tue, Jul 17, 2012 : 5:34 p.m.
Red Berenson believes latest contract extension will be his last as Michigan hockey coach
By Pete Cunningham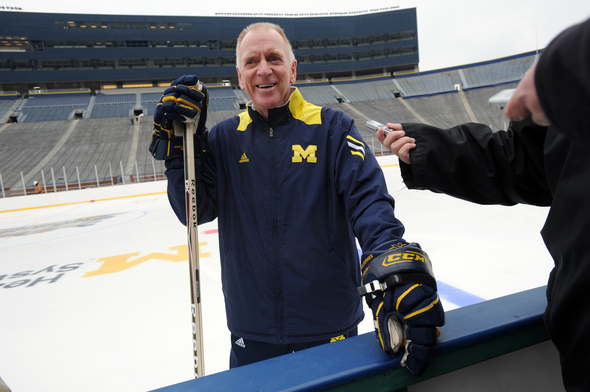 Lon Horwedel | AnnArbor.com
Red Berenson believes the contract extension that will keep him on as the Michigan hockey head coach through the 2015-2016 season will be his last.
Michigan announced the extension on Monday and on Tuesday Berenson said he'd be surprised if that were to happen again.
"I mean let's face it, I'll be 76 when this contract is over. So I would say it's the last contract," Berenson said. "In theory, you would say this will be the last contract. I would be surprised if there would be another one after this."
Of course Berenson also said that when he took over the struggling Wolverines program in 1984, he never saw himself coaching past age 60 and left open the possibility of coaching even longer.
In his 28 years on the bench, Berenson's teams have gone 752-352-77, winning two national championships (1996, 1998), 11 CCHA regular-season championships and nine CCHA tournament titles. Michigan has made the NCAA tournament a record 22 consecutive years.
Berenson credits his support staff for his longevity and the program's consistent presence amongst the nation's elite.
"It's like a machine," Berenson said. "I'm just part of it."
Berenson said he did not seek a contract extension, but that athletic director Dave Brandon thought it was a good idea to squash questions about whether next season would be his last.
"I didn't need this contract, I didn't ask for it, but I can understand that it's good for the program and good for recruiting and so on," he said. "And it rids a lot of us of a lot of needless questions."
Berenson's contract paid him $215,000 per year in 2009-11, according to University of Michigan records.
Berenson's current contract lasts through the 2012-2013 season, which is also the last year the CCHA will be in existence.
Michigan has been a part of the CCHA the entirety of Berenson's coaching career and it seemed a logical conclusion that Berenson might end his illustrious career when the conference went away and Michigan joined the newly formed Big Ten hockey conference.
Brandon approached Berenson about a contract extension so that such reasonable assumptions didn't affect the program going forward.
"We don't know if that's a negative factor (in recruiting) or not, but definitely it's a question and any time there's a coach on the last year of his contract, there's speculation and now there won't be any speculation," Berenson said. "I think it makes sense. It's a good message for our incoming recruits, it's a good message for our program in general."
If anyone has earned a right to go out on his own terms, it's Berenson. But the long-time coach said he had no such approach in his discussions with Brandon.
"I told Dave Brandon, if he thinks it's time to move on, then I'm good with that. I'm here for Michigan…If it's my time, then let's do it. We had a good dialogue," Berenson said. "This is something that he's comfortable with and I'm comfortable with."
"Red is an icon in the sport and the one of the most recognizable names in college hockey," Brandon said in a statement on Monday. "We are glad that he agreed to continue leading our hockey program for the foreseeable future. Red's dedication to Michigan and our program is a major reason for our success.
"I'm excited that he will continue molding the lives of the young men who skate for Michigan."
As far as a perfect ending to his illustrious career, Berenson said it's not something he's seeking.
"The way I look at it, I'm not picking a goal or a situation to retire. The thing I'm looking at is what's good for our program, are we moving forward, are we competitive, are we living up to the expectations of Michigan and are we one of the dominant players in college hockey?" Berenson said.
"With the new (renovations to) Yost and the Big Ten conference, there's a lot to be excited about. I think it's good for the program and I think we're in a pretty good place right now."
Contact Pete Cunningham at petercunningham@annarbor.com or by phone at 734-623-2561. Follow him on Twitter @petcunningham.