Posted on
Thu, Mar 25, 2010 : 2:13 p.m.
Michigan hockey coach Red Berenson credits chemistry for run to NCAA berth
By Jeff Arnold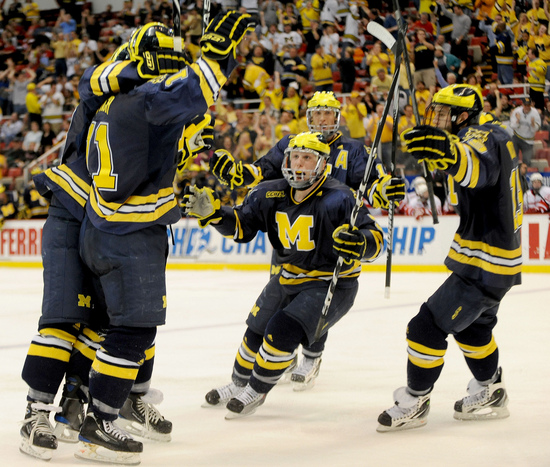 The collection of individual achievements coming at opportune times are difficult to ignore.

Consider walk-on goalie Shawn Hunwick's inspirational play in goal en route to a CCHA Tournament Most Valuable Player award. Or Louie Caporusso's offensive resurgence that sparked the Michigan hockey team's offense in six straight playoff victories.
Or the way Greg Pateryn, Lee Moffie and Tristin Llewellyn have stabilized the Wolverines' defense in the absence of senior captain Chris Summers.
Inside the Michigan locker room, there's a chemistry that coach Red Berenson insists has made a bigger impact on the Wolverines extending their string of 20 consecutive NCAA Tournament appearances more than any singular performance possibly could.
It's been a popular theme that's reverberated around Michigan for decades and it's one that Berenson said has played a key role in the Wolverines (25-17-1) reaching Saturday's NCAA Regional semifinal against Bemidji State (23-9-4) in Fort Wayne, Ind.
"It's fine to pick out individuals who are supporting, but this is really team time," Berenson said Wednesday. "That's why our team is having success because they're playing together, the chemistry is good, everybody's in it for the team. It's not about themselves or their points or their goals or their ice team or their role on the team."
"Everyone has finally bought into the team."
After last weekend's 5-2 win over No. 1-seed Miami (Ohio) Caporusso pointed to a time this season when he and his teammates finally discarded outside opinion. Rather that worry what was being written or said about the Wolverines' playoff chances, there was a concerted effort just to focus on what happened inside the locker room.
Berenson has seen everything come together in the past several weeks as his players have rallied not only around being slated as the underdog, but around one another. Despite being given virtually no chance to be playing for a spot in next month's Final Four this weekend, the Wolverines have discovered the reward of playing through adversity.
"I don't know if you could have planned something like this and we didn't like it obviously," Berenson said. "The season could have been done, but it wasn't. Sometimes the true character comes out through adversity - not when things are going well."
Scouting Bemidji State

Michigan coaches have used tape of Bemidji State's games against CCHA competition this season to get an idea of what they'll see Saturday in Fort Wayne. The Beavers were 3-3-2 against CCHA opponents, which included a 3-2 victory over Miami in late November.
Berenson said he watched Bemidji's NCAA Tournament game against Notre Dame from last season when the Beavers toppled the favored Irish and Cornell on its way to a Frozen Four appearance.
Offensively, Bemidji has an intimidating top line which produced 50 goals, 20 of which came from Ian Lowe while Matt Read tallied 19. The Beavers will create more offensive pressure than the Wolverines have seen all season while playing an overall style similar to Northern Michigan.
Like the Wolverines, Bemidji relies heavily on first-period scoring, evidenced by the 40-14 scoring differential the Beavers had in the opening 20 minutes of games this season. That, Berenson said, will make the first goal of Saturday's game critical in establishing a tone for what's to follow.
"They're a quick team, they're a high-energy team and that's what we're going to get," Berenson said. "The first period is going to be a real tell-tale period. Who knows - it may be 0-0 after one, but both teams are going to be going hard to get that first goal."
On the mend

Berenson put captain Chris Summers' availability this weekend at about 80 percent after the senior defenseman has missed Michigan's last four games. Berenson said if Summers could get through a couple more days of practice, he'd likely play.
If Summers does return, Berenson doesn't expect chemistry on the blue line to be an issue. He's told Summers not to worry about the team or about serving as captain.
Instead, Berenson wants the veteran to focus solely on getting his game back in sync in order to contribute to Michigan's chances this weekend.
Goalie Bryan Hogan will remain Michigan's third goalie this weekend, still feeling some pain from the groin injury he suffered Feb. 25 against Notre Dame. Hogan has skated but still shows signs of the injury.
TV Timeout
Comcast announced Thursday that it will broadcast Saturday's 7:30 p.m. regional semifinal on Channel 900. ESPN360.com will also have coverage as well as other regional outlets such as MASN (Baltimore/Washington DC - DirecTV #640, #Dish Network 432) and Fox Sports Network North DirecTV #668, Dish Network #436)
Jeff Arnold covers Michigan hockey for AnnArbor.com. He can be reached at jeffarnold@annarbor.com or 734-623-2554. Follow him at Twitter @jeffreyparnold.