Posted on
Sun, Apr 10, 2011 : 12:56 a.m.
Michigan hockey coach Red Berenson on officiating: 'I can't tell you what I really think'
By AnnArbor.com Freelance Journalist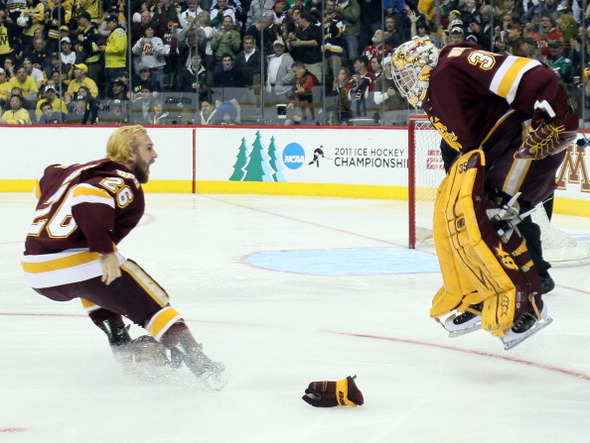 Getty Images
BY JEFF SHELMAN
For AnnArbor.com
ST. PAUL, Minn. - Red Berenson tried to show restraint. The Michigan hockey coach tried not to talk about the officiating of Saturday's national championship game.
But he didn't do that great of a job of hiding his thoughts.
After all, Minnesota-Duluth had nine power plays during its 3-2 overtime victory over Michigan while the Wolverines ended up with four. While the Bulldogs scored only one power-play goal, the time spent playing short-handed seemed to impact Michigan's offensive flow.
"Were they good penalties?" Berenson asked. "I can't tell you what I really think. I mean, you can't talk about refereeing and penalties, but when one team gets nine (power plays) and the other four, it doesn't add up."
He wasn't done.
"We're not out there to take penalties," he said. "So every time a player falls down, it shouldn't be a penalty, not in NCAA championship hockey."
The goal that wasn't
Michigan had an early goal waved off. After Mac Bennett made an initial shot from the top of the right circle, Carl Hagelin eventually jammed in the puck past UMD's Kenny Reiter just 4:20 into the game.
The goal was waved off immediately on the ice and then confirmed by video review. It was announced that a whistle had been blown - presumably because Reiter had frozen the puck - before the puck went in the net.
"The ref said he blew the whistle before I hit the puck," Hagelin said. "That was the explanation.
All-Frozen Four team
Michigan goaltender Shawn Hunwick, forward Ben Winnett and defenseman Jon Merrill were named to the Frozen Four All-Tournament team. The other three members of the team were all from Minnesota-Duluth: Defenseman Justin Faulk and wings J.T. Brown and Kyle Schmidt. Brown was named the Most Oustanding Player.
Turnabout

Berenson had led Michigan to a pair of victories in the national title game. Both of those were 3-2 overtime victories. In 1996, Brendan Morrison's goal gave the Wolverines a 3-2 victory over Colorado College. Two years later, Josh Langfeld's goal allowed Michigan to beat Boston College by an identical score.
Because of those two games, Berenson understands how important this night was to UMD coach Scott Sandelin.
"He'll remember it the rest of his life, he doesn't know it now, it takes a while to sink in," Berenson said. "Good for Minnesota-Duluth. It's been a long time coming for them and they've got a good coaching staff and they've got a good team. They're a better team than we thought they were during the year. … I just wish we could have given them a better game."
A birthday game
In addition to being the day of the national championship game, Saturday was Hunwick's 24th birthday. Hunwick was again very solid for Michigan. He stopped 35 UMD shots and 75 shots on the weekend.
Before UMD's Max Tardy scored at 1:39 of the second period, Hunwick had gone 85:14 without giving up a goal. He gave up only one goal in a span of 193:21 dating back to the first period of Michigan's first-round NCAA tournament victory over Nebraska-Omaha.
Slap shots
While Saturday was Ben Winnett's 155th game for Michigan, he had never previously scored goals in consecutive games. Winnett scored the first goal in Both Frozen Four games for the Wolverines. … This was the first time since 2006 that a WCHA team won the national title. …
UMD became the 18th different school to win a men's hockey title. The Bulldogs became the first first-time winner since Maine won the 1993 title. …
The game's ceremonial puck was dropped by Minnesota hockey legend Neal Broten, the only player who has won a NCAA championship, an Olympic gold medal and a Stanley Cup. …
This was the 14th championship game that went to overtime. … This isn't the only national championship for UMD during this academic year. In December, the Bulldogs defeated Delta State, 20-17, to win the Division II football title and complete a 15-0 season.