Posted on
Thu, Dec 2, 2010 : 4:27 p.m.
Michigan hockey coach Red Berenson takes first spin on the Big Chill at the Big House ice
By Jeff Arnold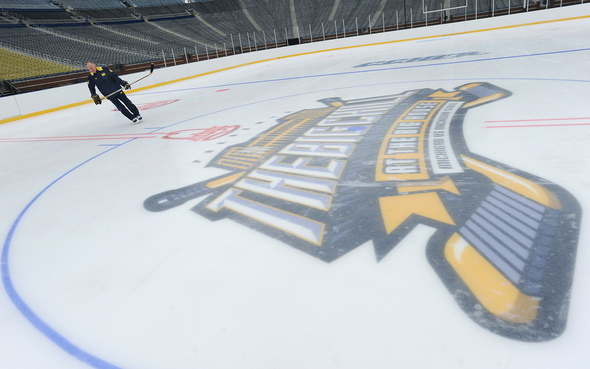 Lon Horwedel | AnnArbor.com
During his playing days with the Montreal Canadiens, Red Berenson often arrived hours before games at The Forum and skated alone inside the empty arena.
On Thursday, the Michigan hockey coach again had the ice to himself - this time inside a vacant Michigan Stadium. He took several laps around the perimeter of the Olympic-sized rink that will be used for The Big Chill at The Big House before firing a couple of pucks into a net.
As many times as Berenson has skated outdoors, he said this time felt just a little different.
"You have to see it - I was watching (rink construction) on the Internet, I came down when they first put the rubber down and they were putting the plywood down," Berenson said after being the first skater to take a test run on the rink. "But once they put the boards in and got the glass in and painted (the ice), it looks like they just brought it in and dropped it in here.
"So it's pretty special."
Rink construction - which represents $416,000 of an operational budget that sits around $1 million - began after Michigan's final home football game.
Workers began making ice on Sunday and dealt with a mix of weather conditions this week to get the rink ready for a slate of 26 games that will begin Saturday. They drove a Zamboni over the surface Tuesday night to intentionally crack the ice to ensure the playing surface has no air bubbles.
After painting the ice and lines and laying in logos Wednesday, the rink was ready for Berenson's brief skate. Project manager Patrick Seltsam estimates his crew has created about 4 inches of ice. Games inside Yost Ice Arena are played on two inches of ice.
Much of the construction was captured by a film crew from the Discovery Channel, which will include the Michigan Stadium rink project during its next season of "How Did They Do That?"
"This is going to be good ice," said Berenson, in his 27th season as Michigan's hockey coach. "Usually when you skate on outside ice, it's lumpy and it cracks easy, but I'm impressed this isn't all cracking. These guys have done a great job. They know what they're doing."
Ice Rink Events, the Texas-based company that installed the rink, is no stranger to such projects. The firm installed the rink for last year's Camp Randall Classic at Wisconsin and did construction for the NHL's first Winter Classic in Buffalo in 2008.
Despite finishing work during a week that began with warmer temperatures and rain before turning cold and and snowing, crews completed their task on time. And most importantly, to Berenson's satisfaction.
"This might be a better rink than we have inside (at Yost)," Berenson joked.
As impressed as Berenson was, Seltsam said the ice will get better between Saturday's Adrian College game and when Michigan faces rival Michigan State at 3 p.m. on Dec. 11.
"To hear people who have experienced a lot - Red's played a lot on outdoor ice - and for someone who has been around a lot of temporary outdoor surfaces to say it's good and to give you the thumbs up is always what you want to hear," Seltsam said.
Public skate schedule | Slideshow of Berenson skating | Web cam of rink
Jeff Arnold covers Michigan hockey for AnnArbor.com and can be reached at (734) 623-2554 or by e-mail at jeffarnold@annarbor.com. Follow him on Twitter @jeffreyparnold.